---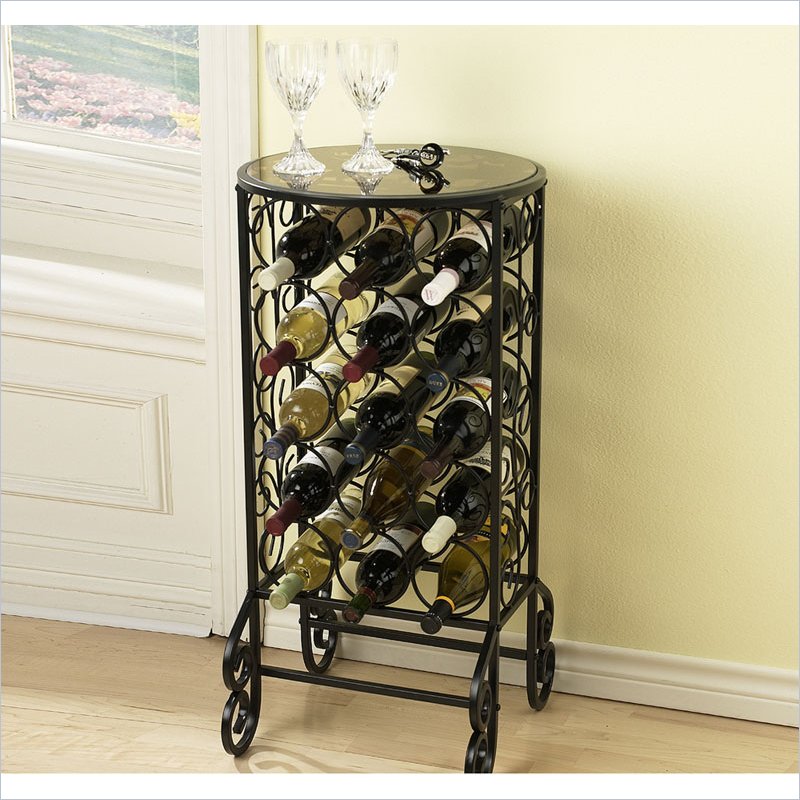 ---
Whether you are a serious collector or enjoy an occasional glass of wine, wine racks have become a popular and convenient way to keep and store bottles. Not just for storage, wine racks can be added to virtually any room of your home, and can fit as comfortably in the living room as they do in the kitchen. They can even be used as decorative accents in a hallway or an alcove. They are available in different materials and styles, suitable for a range of traditional and contemporary décors.
Before You Begin
How many bottles of wine do you want to keep on hand at any one time? If you enjoy an occasional glass of wine, a wine rack with the capacity of 5 to 15 bottles may be ideal; however, if you entertain frequently or are an avid collector, you may prefer a rack capable of holding 50 or more bottles.


Why are you purchasing a wine rack? Whether you are buying one for display, storage or entertaining, the intended purpose will determine what kind of wine rack you will need.
Decide where you want to locate the wine rack, and how much space you have to spare.


Do you want your wine rack to have any special features? For example, if you want to add a wine rack to a storage area, but have no readily available floor space, a wall mounted rack might be the ideal solution.
What Kind of Wine Rack Do I Need?
Wine racks can be simply described as either decorative or utilitarian. Decorative wine racks are generally used for entertaining or display purposes, while utilitarian wine racks are commonly used for storage, either in a residential or commercial setting.
The most typical kinds of wine racks are the wood wine rack and the metal wine rack. They can also be made of acrylics, laminates and even terracotta. Wood is an especially appropriate material for wine racks because it does not easily conduct temperature changes within the wine bottle, permitting vintages the necessary time for proper aging. Wine rack capacity ranges from 5 to 50 or more bottles, and are designed for both home and commercial use.
Metal wine racks can be simply functional, constructed of heavy gauge metal for industrial purposes or sleek metal and glass creations intended to display your collection to its advantage. Larger wood or metal wine racks are better suited for the serious collector or for commercial applications. A popular stylish way to display wine, especially when entertaining, is the table top wine rack.
Wine furniture merges the practicality of the wine rack with the function and form of the accent table. They can include table tops, cabinets and display shelving in addition to the rack component. Some popular stylish features of wine furniture include, bistro table tops, wine tasting blocks and wine bars that let you store your wine in the same location as any wine glasses and other accessories you might need. Many styles of wine furniture boast hand-painted detailing, dark rich finishes, accessory drawers and hanging racks for wine glasses. No matter its application, wine furniture such as a wine tower or a wine cabinet will be the perfect decorative entertaining accent for your home.
Putting wheels on your wine rack provides a chic way to display and store wine, while making it mobile. The wine cart offers flexibility, allowing you to move it from the kitchen to the dining room to the living room or even the patio. Wine carts come in a variety of styles, including ones meant especially for the kitchen, complete with a knife block and paper towel holder. More formal styled wine carts designed to be used in a living or dining room present a number of features, such as mirrored tray tops, shelves and drawers.
The ideal wine storage system is the one that will grow and adapt as your collection or business changes and expands. Wine racking is available in a wide range of styles and configurations suited to every budget. Most wine storage units can be used on their own or as components to create a larger wine room or display area. Options for wine storage include racking for individual bottles, wood shelves intended for case storage, tilted racks for display and diamond cubes for bulk bottle storage. By choosing a modular racking system, you can maximize and customize your wine storage space.
---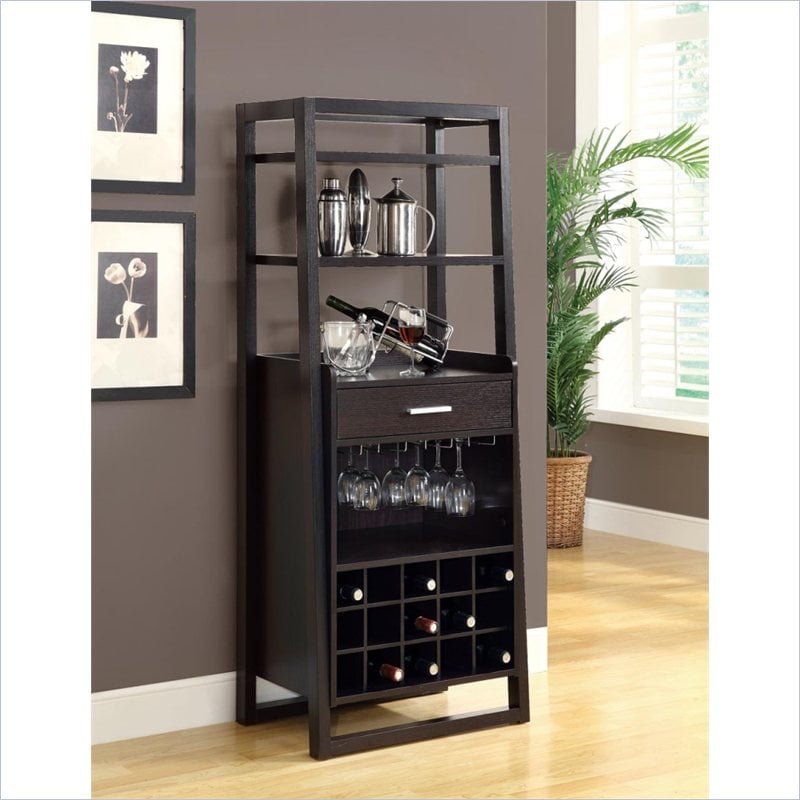 ---
What Type of Wine Rack Should I Select?
If you have a limited area to work with, wall mounted racks allow you to display or present your wine collection without surrendering valuable floor space. Even though they are designed as compact units that can be mounted to a wall, they come in a variety of sizes, finishes and types. Individual wall mounted racks make allowances for increased air flow and easy label identification. They are also ideal for presenting or displaying a limited number of wine bottles. They can be set up inside cupboards, cabinets, niches under a staircase and even over doorways. Depending on the type, wall mounted racks can be expanded as required. Whether you are using your wall mounted rack for a residential or a commercial application, you are sure to find something that will meet your aesthetic and practical needs.
Modular racks provide a flexible system for storing your wine, whether you want to design a wine room for your growing collection or customize available shelving for your evolving business. Stackable wine racks are a type of modular rack that allows you to build up instead of out, utilizing wall space rather than reducing floor space. Most modular wine racks are especially designed for horizontal storage; this allows the cork to remain moist, preventing it from drying out. Some types of modular racks can also be mounted to the wall for added stability and safety. Since they can be configured to your specific requirements, modular wine racks are perfect for filling a non-conventional space.
Like most other types of wine racks, a free standing rack is also designed to store wine horizontally or at a right angle. Decorative, free standing wine racks lend an air of sophistication to any room. To ensure that the rack will fit into any room's existing décor, select a standing rack simple and clean in line and form. Standing wine racks should not be more than eight bottles in height. For a rack that is any taller and does not come with optional hardware, it is advisable to make the unit stable by fixing it properly to a wall. Many free standing racks come with features like a hanging rack for stemware, a presentation shelf and a drawer for accessories.
Designed to fit into a corner, corner racks are an ideal solution for the wine connoisseur with limited space. Decorative corner wine racks are cabinets that can include several features, such as display shelving, in addition to the compartment designed to hold the wine bottles. Utilitarian corner wine racks are intended to bridge the gap between two walls and are not meant to stand alone without mounted racks on either side. This type of corner rack is ideal for expanding the storage space in your wine room or cellar.
---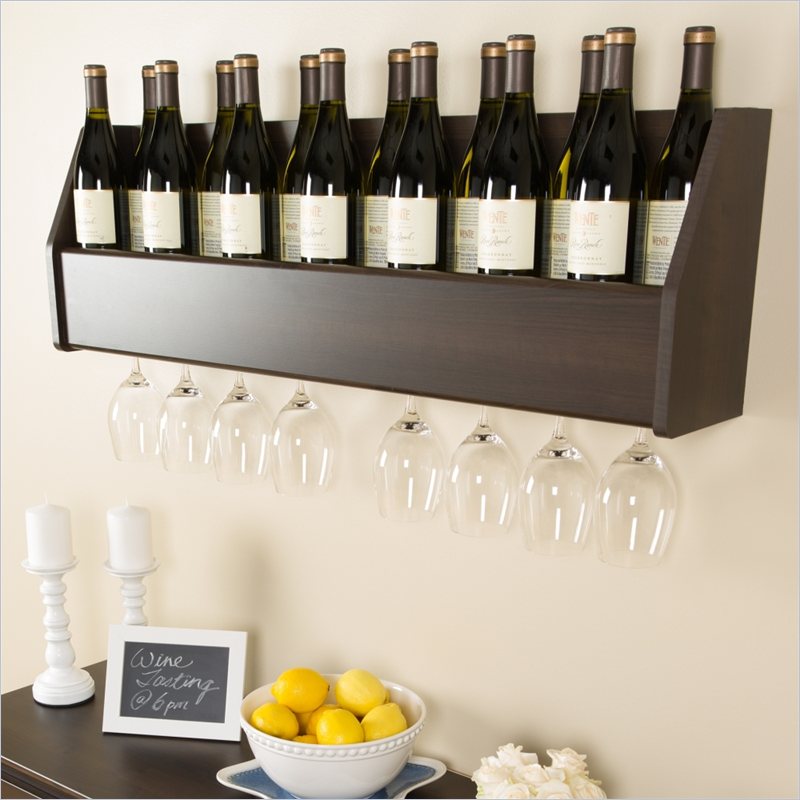 ---
What Kind of Material Should I Choose?
Made by gluing recycled wood fibers together using heat and pressure, MDF or medium density fiberboard, is generally more affordable than solid wood and is as durable. Lighter than solid woods, wine furniture made of MDF can be shipped conveniently and cheaply. Since it has no grain, it can be cut, nailed or drilled without damage. MDF, when paired with laminates or wood veneers, can look and feel like real wood.
A laminate finish is a sheet of material applied as a finish to the surface of furniture, usually constructed of MDF or another type of engineered wood. Laminates are made by pressing layers of materials, such as plastic and wood together and then sealing them with a thermosetting resin. They can be patterned, a solid color or look like real wood (simulated wood grains). Laminates are commonly used for home furnishings because they don't fade. A wine cart with a laminate finish will be durable and easy to care for.
Wood veneers are created by attaching thin slices of real wood to the piece of furniture to give it the texture of genuine solid woods. Since the veneer can be applied to any smooth, flat surface, it is a popular way to make furniture because it keeps costs down. A wine cabinet made from MDF and wood veneers will add a stylish accent to any room.
Wine racks made from real wood are manufactured from timber cut from the trunks of trees like oak, mahogany, redwood and pine. Considered the best material for quality furnishings, solid wood racking systems and decorative wine cabinets are strong and long lasting.
Metals are a popular material for wine storage systems because of their strength and durability. Alloys refer to metals made by combining two or more elements. Pure metals tend to be too soft, too brittle or chemically reactive. The purpose of creating an alloy is to make the metal stronger and more stable. Because essentially all metals are subject to the effects of time and oxidization, you want to choose a metal wine rack with a durable finish or a protective coat that is resistant to corrosion. Wine racking made from sheet metal is more solid than ones made from tubing, but a rack made from heavy gauge tubing will be just as strong and durable, while being lighter and less costly to ship.
What Style of Wine Rack Should I Select?
When selecting utilitarian wine storage for your wine room or business, style might not play such an active role. The consideration here is practical and functional, a racking system with clean lines that is easy to maintain. If you are purchasing a racking system for a commercial use that will be in plain sight, keep in mind the general styling rule that advises to choose dark woods or finishes for a traditional touch, lighter wood finishes for a casual look, and lustrous metals for a contemporary feel. However, when selecting wine furniture that will flawlessly blend in with your existing décor, deciding on a particular style will be more of a concern.
Traditional style furnishings are based on historical periods and customs, and tend to reflect old world elegance and charm. Characterized by dark wood finishes and ornate detail, traditional wine furniture will lend a room a warm ambience and flair.
Emerging from the second half of the 20th century, contemporary style reflects traditional and casual styles, but is more subtle and understated than the more ornate details associated with traditional furniture. Because this style of furniture is a fusion other styles, a neutral, contemporary wine rack will blend in with almost any décor.
Casual style takes contemporary a step further. Simple, but effective, casual furnishings may feature textured elements such as clean lateral lines, emphasized by leather or glass accents. A casual style wine cart merges the upbeat look of contemporary with the warmth of traditional, and will fit in perfectly with the existing furniture of a comfortable, relaxed room.
What Else Should I Keep In Mind When Choosing a Wine Rack?
Wine racks used specifically for entertaining or as an accent piece should complement the décor.
For keeping a few bottles on hand, use a single wine rack; for housing a collection or as part of a business, use a modular racking system that will allow you to customize current wine storage to your changing needs.
When there is no spare floor space available, consider a table top version of the wine rack that will comfortably sit on a counter in the kitchen or a sideboard in the dining room.
Whether made of wood or of metal, open wine racks will provide natural ventilation and make maximum use of existing air flow.
If a standing wine cabinet with regulated temperature control is not an option, wire wine racks are a good choice, because they can help keep the wine cooler. A ten degree difference will not affect wine, but sudden changes from warm to cold might cause premature aging.
Do you need to keep your wine collection safe from curious little fingers? Select a rack that has locking compartments or cabinet doors.