You carefully planned your home or business office and invested money to furnish it. After spending your budget or maybe even going slightly over, don't make the mistake of saving on your office chair. You will be spending a lot of time at your desk; make sure that you will be comfortable and well-supported. A good office chair will contribute to better work habits and to your overall success: an office chair selected to your specifications is sure to increase productivity. The four main factors to consider when buying an office chair are mobility, comfort, adjustability and durability. Since there are so many different styles and types to choose from, the following is a brief guide to help you decide what kind of office chair will best suit you.
---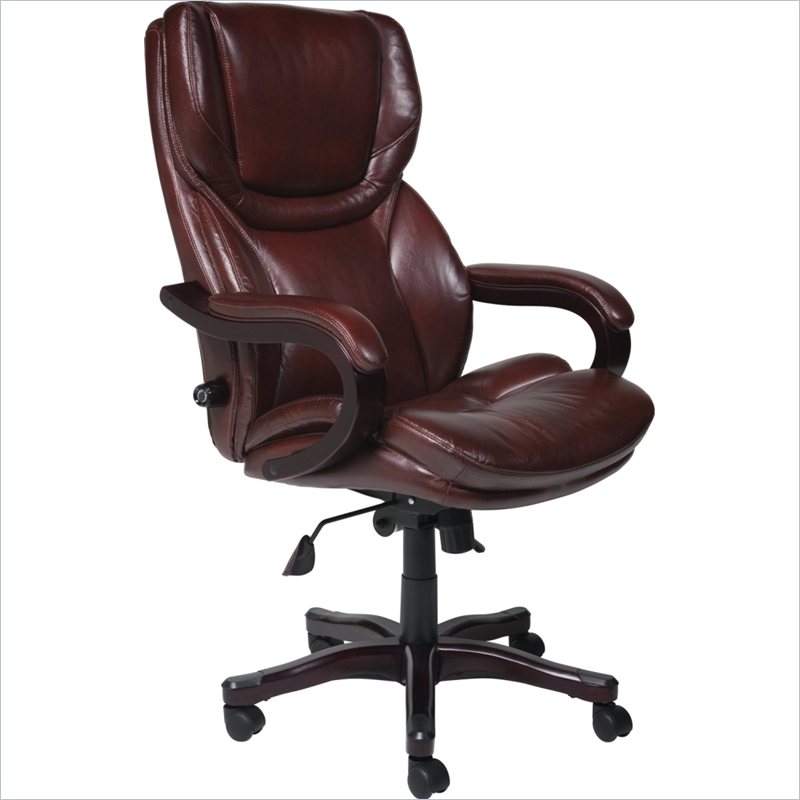 ---
Before You Begin
Before deciding on what kind to buy, here is a breakdown of the components of a typical office chair and the elements that will make it comfortable.
The backrest supports the back. For it to provide the maximum support to the lumbar region (the curve at the base of the spine), the backrest should be height adjustable. It should also be gently curved to match the natural curve of a person's spine. For a chair to be ergonomic, a backrest should be 12" to 19" wide. If an office chair includes a tilt mechanism, this will allow the backrest to maintain lumbar support when you move.
The seat pan should be wide enough for a person to sit comfortably centered in the chair, with a 1" space on either side, and deep enough to allow 2" to 4" of space between the back of the knees and the edge of the chair when the torso rests against the backrest and the feet are flat on the floor. The seat lift makes the seat pan adjustable, so that the chair can be positioned correctly. To ensure proper circulation, the seat should have a rounded or waterfall edge, which means that it will slope slightly downward to help relieve pressure on the back of the thighs.
Armrests should support the arms to reduce stress from building in the shoulders, neck and the middle of the upper back. They should be adjustable and/or removable, and must not interfere when the chair is pulled close to the desk or computer. Ideally, the armrests of the chair will allow unrestricted movement of the person's hands and wrists, while supporting the elbows and lower arms. For ultimate comfort, select padded armrests. When purchasing a chair that does not have adjustable armrests, make sure that, when sitting in the chair, your arms are not too low, too high or too far apart. Any one or a combination of these three, will force you into an uncomfortable position, consequently causing shoulder and/or neck strain.
The base should be well-made and in a five-star configuration to prevent tipping when you lean back. Metal and wood bases will last longer than ones constructed out of plastic. For additional stability, select an extra-wide base. Most office chairs will have casters; some brands might offer locking casters so that the chair can be immobilized. Before making a final purchase, check to see that the casters are appropriate for the type of flooring that is in your home or business office. Use hard casters for carpeting and soft or rubber-coated casters on a hardwood floor or any other surface that can be scratched or marred.
---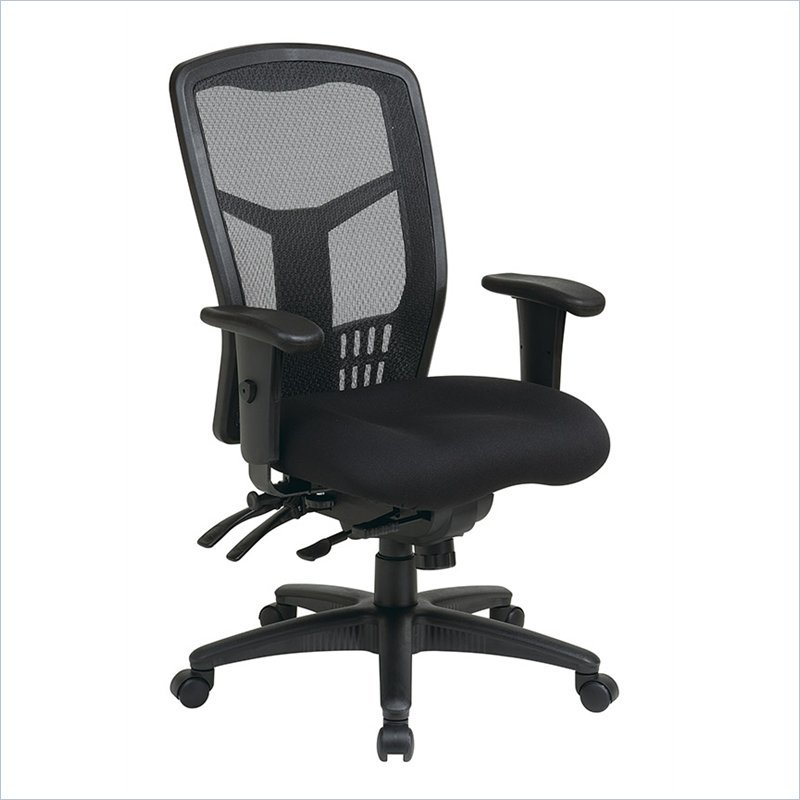 ---
What Kind of Office Chair Do I Need?
High back office chairs have backs usually extending to the upper back. They are sometimes high enough to support both the neck and head. A high-back chair relieves tension in the lower back, preventing long term strain. Also known as executive chairs, they can include features such as button-tufted back cushions, adjustable comfort controls, headrests, removable and/or padded arms, and dual wheel casters.
A mid-back office chair offers support to the mid-to-upper back region. Practical and adaptable for most office environments, from behind the desk to the meeting room, mid-back office chairs are the logical choice for cross-performance tasks. Some brands of mid-back and high back office chairs feature the pillow back style of built-in lumbar support specifically designed to relieve lower back stress. Both mid-back and high back chairs can include waterfall seat fronts, intended to remove pressure from the lower legs and improve circulation.
Low back office chairs, also referred to as task chairs, are designed to support the lower-to-mid back region. Since they are generally not as formal in appearance as a high-back or executive chair, the low-back office chair can be easily transferred from the receptionist's desk to the training room. They are versatile, available in numerous styles, and can feature tilt tension control and pneumatic seat height adjustment. Pneumatic height adjustment will make it easier to raise or lower your chair into its most comfortable position.
Big & tall office chairs are designed to accommodate larger and/or taller body types. Proportioned for those of above average weight or height, they offer broader seat widths, adjustable back heights for people up to seven feet tall, adjustable seat depths, and varying weight capacities up to 500 pounds, depending on the brand. To ensure that a person can sit comfortably, many types of big and tall office chairs have armrest adjustments to allow for size differences regarding the trunk-to-shoulders ratio, which affects where the elbow will rest when sitting. If you are looking for measurements or features to meet specific requirements, check manufacturers' product descriptions before making a final decision.
Distinctly ergonomic, the kneeling office chair originated in Norway in the 1970's, designed to particularly address back problems arising from the body resting in a right angled position when seated. This kind of office chair has no back, and when sitting, a person's thighs are at a 60 to 70 degree angle, shifting the hips forward, aligning the neck, spine and shoulders. The four ways of sitting in kneeling chairs are: facing forward, knees under you; facing forward, knees in front of you; turning the kneeling chair backwards and then sitting on it as you would a stool; sitting with the majority of your weight on your knees and shins on the bottom pad, while your hips rest against the top cushion. Don't be fooled by the name—you are still sitting in the chair, and it is the shins, not the knees that bear the body's weight.
Also known as multi-shift task chairs, a 24-hour task office chair is designed for extended use or multiple-shift environments that require round-the-clock staffing such as nurses' stations, police stations and call centers. Intended for a succession of users, 24-hour task chairs are built to be strong, durable and long-lasting. Many offer height, seat and armrest adjustments geared to easily customizing the chair to personal comfort levels, as well as tension control to adjust the chair to an individual's body weight. Some 24-hour task office chairs include drafting kits, which will add height and/or a footrest to the chair.
---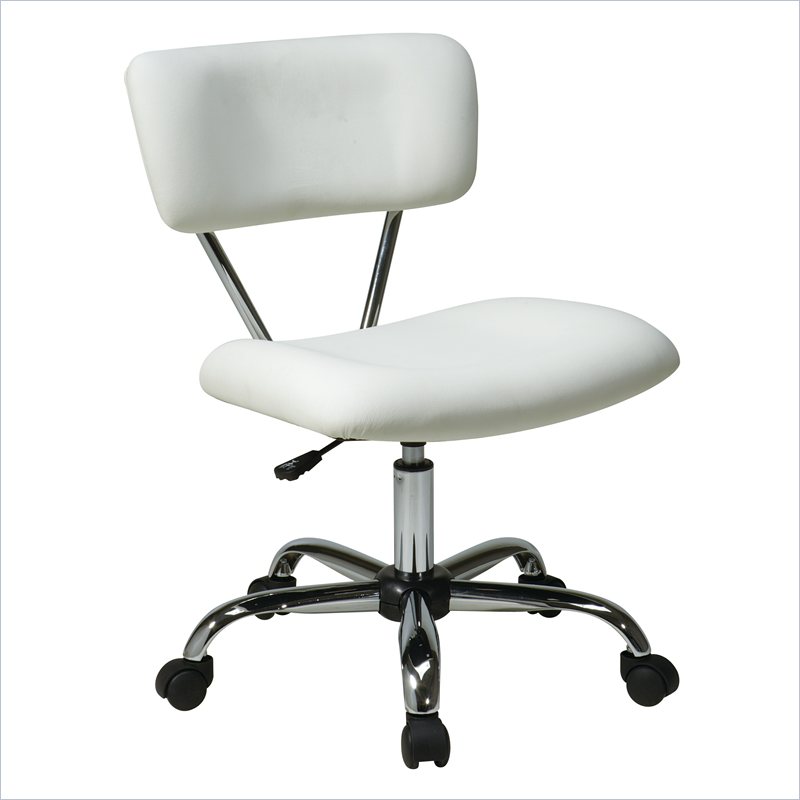 ---
What Type of Office Chair should I select?
Fabric office chairs come in a variety of colors and patterns. They are also available in different grades of fabric, indicated either by letters or numbers depending on the manufacturer. Whether you are buying a chair for your home office or several for your business, fabric office chairs are a convenient way to blend them with the existing décor and furnishings. To extend the longevity of your fabric office chair, select a heavy weight fabric that is durable and easy to clean. Check product descriptions to see if a stain-resistant coating has been applied to the fabric. To maximize your comfort, especially if you will be sitting in the chair for long periods of time, choose a breathable fabric.
Nothing says executive like a leather office chair. Whether you're purchasing one for your home office or at work, leather chairs make a statement. They look sleek and feel comfortable. Black, brown, white and cream leathers are the classic choices, but fashion colors such as burgundy, caramel, charcoal and blue are becoming very popular. Leather office chairs can range from simple stitched detail, button-tufted styling, tailored leather padding to ribbed back and seat. A leather office chair does require regular care and maintenance to keep it soft and supple, and is prone to minor wear and blemishes with daily use.
Vinyl office chairs can look like leather, but are more economical and easier to care for. They come in a wide variety of styles and colors, and are adaptable to virtually any home or business décor. Many models offer similar details, such as button-tufted styling found in high-end leather chairs. Some manufacturers provide vinyl seating with an anti-bacterial, anti-microbial coating; perfect for easy maintenance in high-use work settings or high traffic areas. For furnishing a large office space or business, vinyl office chairs offer affordable seating solutions with a large number of features and/or ergonomic controls to choose from.
Whereas the backs of standard office chairs act as an insulator the longer they are sat in, mesh office chairs are breathable, allowing air to flow through. Some types of these chairs have just a mesh back, while others have both a mesh back and seat. Sometimes the back is mesh, while the seat is perforated leather. They are meant to conform to the body and make sitting for long periods of time more comfortable by allowing your back to breathe, thus promoting better circulation. A mesh office chair with built-in lumbar support is considered to be ergonomic.
What Else Should I Keep In Mind When Choosing an Office Chair?
If you are concerned about ergonomics, but don't have the budget for office chairs with all the bells and whistles, select a style of office chair that includes basic ergonomic features such as controls for adjusting the backrest and chair height, and has a waterfall seat edge.
For optimum comfort, choose a mid-back or high-back office chair with flexible or built-in lumbar support.
Since people come in all shapes and sizes, check the manufacturer's product description for the chair's maximum weight capacity.
How will the office chair be predominately used? If the chair is intended for a computer station, choose an office chair with adjustable armrests or no arms at all. This will allow for the constant mobility associated with typing or keyboarding.
If you are purchasing office chairs in bulk for a work environment where a variety of tasks will be performed, to ensure the user's comfort, select a type of chair with good padding.
Especially for high-use or multi-task office chairs, select a fabric that doesn't slide, shift or have a tendency to bunch up.
When purchasing an executive office chair, consider buying the matching side or guest chair at the same time. Some manufacturers offer complementary or matching side chairs so that you can maintain the visual flow of your office décor.
Adjustment controls are either mechanical or pneumatic: pneumatic office chairs, based on a system of springs and compressed air, are easier to use.
Adjustment controls should be user-friendly and accessible while sitting in the chair.
Office chairs that will be used at a desk or reception area should swivel and rotate easily to allow the person using the chair easy access to the different parts of their workspace without strain or overreaching.