---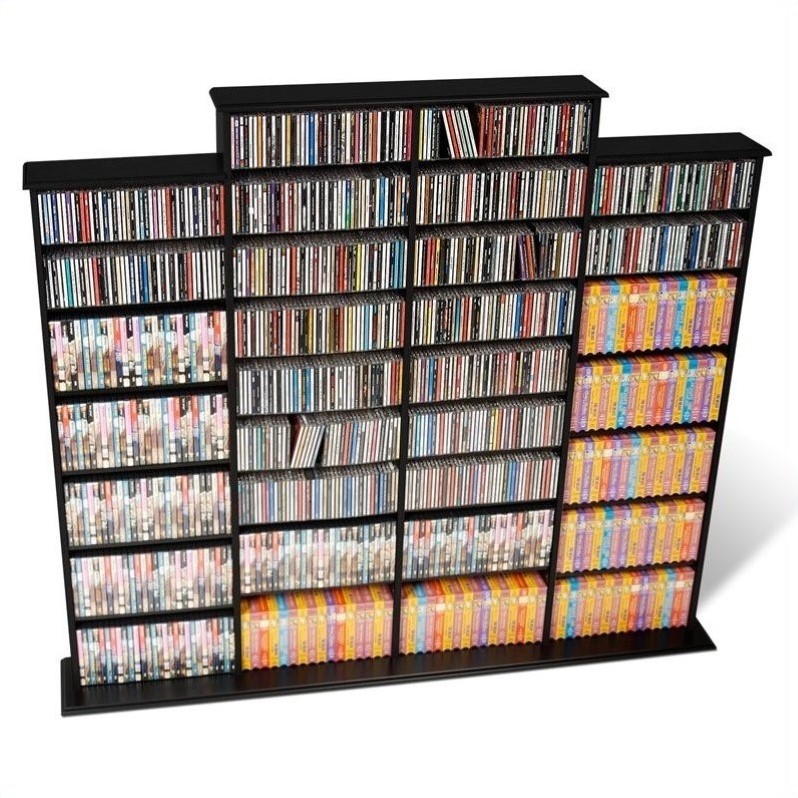 ---
Whether you are an avid collector or just want a place to store your CDs, VHS tapes and DVDs, having somewhere safe to keep them is important. But just getting them off the floor isn't enough. What do you want the unit for? Will you be storing just CDs or CDs and DVDs? What about your favorite VHS movies you want to hang on to? Should you select one that can be mounted on a wall or one that will take up the entire wall? Media storage comes in a variety of types, styles, sizes and diverse configurations. Choosing the kind of media storage furniture that will specifically meet your needs can be challenging. Since hiding them in cardboard boxes is not a practical option, the following is a brief guide to help you select a media storage solution that will best suit you.
Before You Begin
Decide where the unit will go; then take measurements. If you will be constantly adding to your collection, plan to purchase the largest unit space will allow.
When selecting the kind of unit best suited to your requirements, consider accessibility. Do you want to be able to spin them around when looking for something, or would you prefer to store them out-of-sight in drawers?
Select media storage furniture with adjustable shelving, especially if your collection is a mixture of CDs, DVDs and tapes.
To avoid having to replace your multimedia storage cabinet after only a couple of years, purchase the highest quality you can afford.
What Type of Media Storage Do I Need?
The main purpose of any type of media storage furniture is to protect your discs from dust and damage, while keeping them organized and accessible. The style, color and material you will choose is ultimately a matter of personal preference, but what type of unit you select will depend on how you wish to organize your collection. Also take into account what you will be using your media storage unit for. If you plan on separating your CDs from your DVDs, you might select matching cabinets with doors. If space is limited and you intend on storing everything in one unit, including video games, select a wall unit that provides you with a number of multi-purpose organizing solutions.
Wall units are available in a range of styles from single units that resemble a stand-alone bookcase to ones that look like cabinets found in a library reading room. How many CDs/DVDs do you own? Some units are designed to hold over 1500 CDs. If your collection will never be that large, a smaller unit will probably be ideal for your needs. However, if you are a serious collector, multimedia wall units with two or more sections allows you to easily sort, file and even weed your collection as it grows and changes. When space is an issue, choose a compact wall unit that will hold a large number of CDs/DVDs.
Wall mounted units and cabinets are ideal multimedia storage solutions for small rooms or areas with limited surplus floor space. For optimal accessibility, select an open wall unit that will allow you to easily identify and reach stored items. Depending on the make and manufacturer, many wall mounted units are stackable, which means you can add more shelving as needed. They can range from utilitarian shelving to creations that display your collection as a work of art. To make the most out of your wall storage space, also consider the shape of your wall mounted cabinet: if it is long and rectangular, it will use the space horizontally, while an oversize, square or tall cabinet will utilize the space vertically.
If you want to protect your collection from dust, light or mischievous fingers, choose a multimedia storage cabinet with doors. Media storage cabinets are popular because they stylishly conceal your CDs and DVDs. Before purchasing a cabinet with doors, check to see whether or not opening them will disrupt the traffic flow; if this will be an issue, select a cabinet with sliding doors. Especially if you plan to store a variety of media, make sure that the majority of the shelving is adjustable. If securing your collection is a concern, select a CD/DVD cabinet with a turnkey lock. Regardless of the type and size, multimedia cabinets have become central pieces of furniture in their own right. For this reason, it is important to select a color and style that will blend with your current décor.
Spinning tower media storage and stand-alone towers combine compact organization solutions with accessibility and convenience. They are specifically designed to use a minimum amount of floor space. Don't be afraid that you'll make your living room or den look like a retail store or the AV section of the library—today spinning media towers are available in sleek stylish colors and designs versatile enough to fit in anywhere in your home. They are especially useful in small rooms since a revolving rack requires two square feet, but will store a maximum number of CDs/DVDs. The most common type of spinning media tower is 4-sided, but 2-sided units are becoming a popular alternative.
Even if your CD/DVD collection is large and you intend on purchasing a media cabinet or wall storage unit, you might also want to invest in a tabletop media rack. Table top racks or stands can be conveniently placed near a CD or DVD player. It is the perfect accessory to keep your computer desk or armoire in order and clutter-free. Tabletop stands allow you to quickly find what you need; depending on the manufacturer, some models even include a moveable flip feature for easy viewing and access to those CDs or DVDs most frequently used. Depending on how you want to store your CD/DVDs, tabletop media storage and organizers come in a number of shapes and sizes including drum pods, stand alone and stackable racks and apothecary style drawer units.
---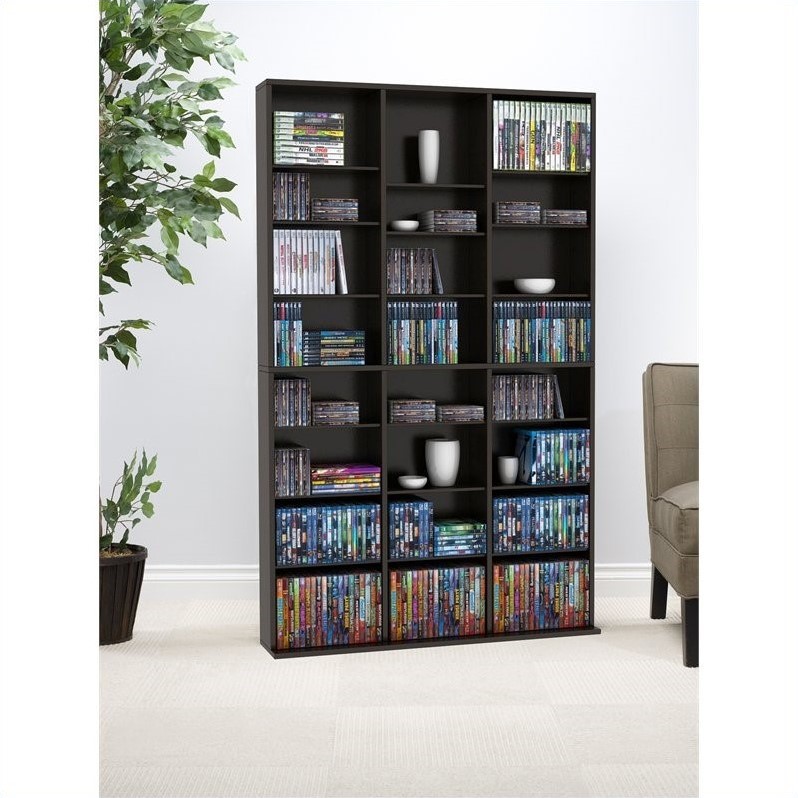 ---
What Kind of Material Should I Choose?
MDF or medium density fiberboard is an engineered wood, produced by gluing multiple wood fibers together using heat and pressure. Since it is constructed from recycled materials, it is generally more affordable than solid wood but is as durable. Since it has no grain, it can be cut, nailed or drilled without damaging its surface. MDF, when paired with laminates or wood veneers, can look and feel like solid wood.
Laminates are made by pressing layers of materials, such as plastic, metal and wood, together. They are then sealed with a thermosetting resin. Once produced, the sheet of laminate material is then applied to the media storage cabinet which is typically made of an engineered wood like MDF. Laminates are commonly used as finishes for home entertainment furnishings and accessories because there are very durable and easy to care for.
Using a process of heat and pressure, wood veneers are created by adhering thin slices of real wood to the piece of furniture to give it the texture of genuine solid woods. Since the veneer can be applied to any smooth, flat surface, it is a popular way to make media storage furniture because it keeps costs down.
Real wood furniture is manufactured from wood cut from the trunks of trees such as oak, pine and maple. Considered the best material for quality furniture, these pieces are crafted with attention to detail, like dovetailed joints and rich protective finishes. Because solid wood furniture is not made from recycled or processed materials of any kind, it is more expensive.
Tempered glass is made by either treating glass with heat or a chemical solution, which makes it stronger than regular or annealed glass. It is designed to break into small fragments rather than large shards, like untreated glass. Choose a CD/DVD media storage center with glass doors or shelves made of tempered glass, since this will make the unit stronger and safer.
What Else Should I Keep in Mind?
To avoid purchasing a media storage unit that might clash with the existing design and flow of your room, remember these simple, basic decorating rules. If your décor is contemporary, select a CD/DVD cabinet in a light to medium finish. For a more traditional feel, select a multimedia wall unit in a dark, lustrous finish. However, if your décor is modern, you might want to select a chrome and glass CD tower.
Since they are so light, even when in a jewel case, they can be stacked horizontally. However, for longevity, vertical storage of CDs and DVDs is the most commonly recommended to store CDs, DVDs, and VHS tapes.
To further protect your discs, position the storage unit away from direct sunlight and high humidity areas such as the kitchen.
Whenever possible, store CDs and DVDs in their cases. When not in their protective cases, avoid stacking CD/DVDs or leaving them lying loose on a desk or coffee table to prevent them from being scratched or damaged.
If you're short on space a spinning media tower or a wall mounted unit will be your best media storage option.
To house a smaller DVD collection, consider selecting a stylish TV stand that includes shelves and/or drawers for media storage.
Take full advantage of your media storage furniture—put your CDs and DVDs away after using them. Not only will it protect your discs from potential harm, it will also help keep your room clutter-free.