---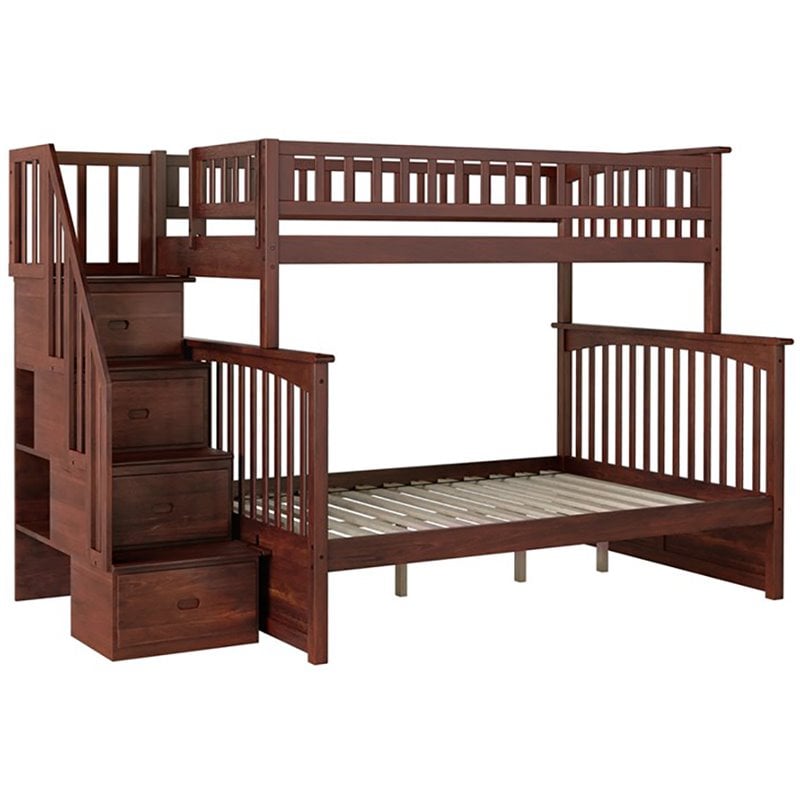 ---
Bunk Beds: The Buying Guide
A bunk bed is a versatile way to decorate a child's room, especially one that will be shared by two siblings. Before purchasing a bunk bed, here are some general guidelines to help you select one the will be safe, comfortable and stylish.
Things to Consider Before Purchasing a Bunk Bed
Bunk beds should be used by children six or older. If one of your children is under six, plan on assigning the bottom bunk to the younger one
The guardrails of the top bunk should be on all four sides.

There should be five inches of space from the top of the mattress to the top of the guardrail (of the top bunk). If the mattress is too thick, the guardrail will not be able to protect your child from falling out of bed.

Check the manufacturer's product information for the weight capacity, especially of the top bunk.

It should be well-made and constructed of strong and durable materials. It shouldn't wobble or shake. If your home is prone to uneven floors, plan to use levelers. Many manufacturers include them; if not, they can be purchased at most hardware stores

Corners should be rounded.

The ladder should be securely fastened and not easily removed by a child.

Take into consideration the size and shape of the room you are purchasing the bunk bed for. Measure the available space and make sure that there will at least three feet of clearance between the ceiling and the top bunk.

Especially if your child occupying the lower bunk likes to read in bed, ensure that there will be enough space between the bottom and top bunks, so that he or she will be able to sit up comfortably.

Types of Bunk Beds
Most of us will immediately picture the standard style bunk bed for kids as two twin beds, one above the other, made of wood. But today, bunk beds come in a variety of styles and types, with different features such as under-bed storage, a built-in student desk or a trundle bed.

The twin over twin bunk bed, also known as a standard bunk bed, is two twin beds stacked one on top of the other. Most twin over twin bunk beds can be separated into individual, freestanding beds. Twin bunk beds can be made of wood or metal or a combination of wood and metal. They are great space-savers. Even if you're decorating the room for one child, a twin bunk bed is an ideal way to be prepared for sleepovers or unexpected guests.
The twin over full bunk bed resembles the standard bunk bed, but is designed to accommodate two different mattress sizes, a twin on the top and a full or double mattress on the bottom. This is an ideal configuration if one child requires more room.
The full over full bunk bed is comprised of two full or double sized beds. This type of bunk bed is a real space-saver, doubling the room's sleeping capacity. A full over full bunk bed would also be ideal for a guest room or when decorating a teen's bedroom.
The loft bunk bed is available in a variety of combinations. Essentially, it is a top bunk with space underneath for any number of furniture groupings. A loft bunk bed can have a freestanding bed, nightstand and a bookcase or a student desk or futon. They can also be an inclusive unit with a sleeping area, work space and built-in or under-bed storage.
Futon bunk beds have a futon sofa as the bottom bunk with a regular twin bed as the top bunk. A futon bunk bed is not only a great way to decorate a child's or teen's room, but, it is also a good choice for decorating a multipurpose room or adding sleeping/seating options to a small home office.
A triple bunk resembles a loft bed, but has two twin bunks on the top, usually in an "L" formation, with the third twin on the bottom. Many types of triple bunk beds are also available in X-long (five inches longer than a standard twin), which makes them a popular choice for a teen's room or a dorm room.
---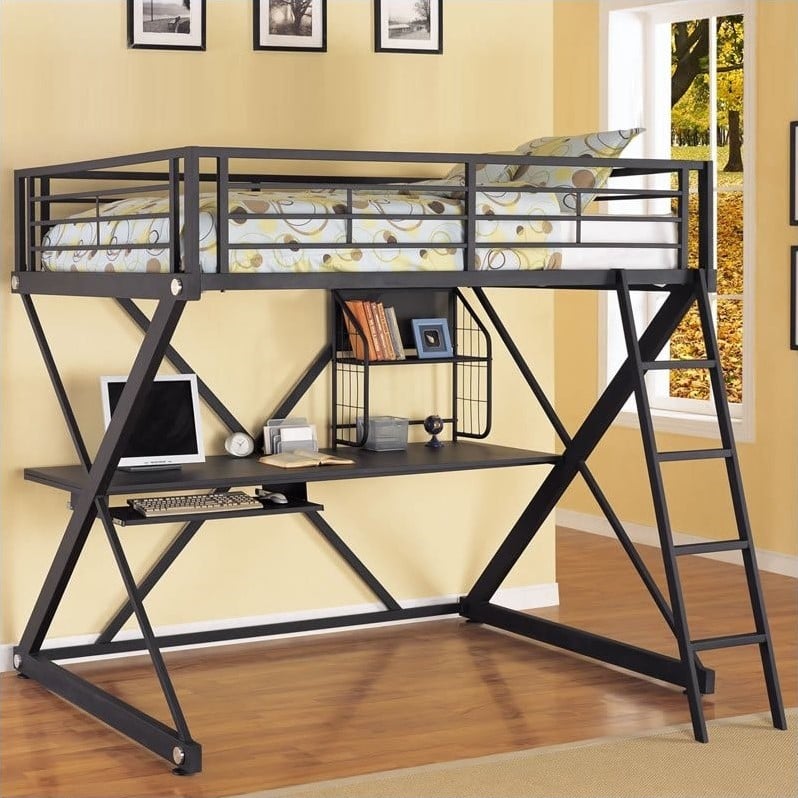 ---
Bunk Bed Features
Storage drawers are designed to fit underneath the bottom bunk. They can be on casters or be a part of the bunk bed's structure and slide out, much like a dresser drawer.
The trundle bed fits underneath the unit, and usually accommodates a twin mattress. It can be one of two kinds: resembling a large drawer, it pulls out from under the bottom bunk or it can be a pop-up trundle, which is basically a folding frame designed to hold a twin mattress.
The bottom bunk can be a captain's bed box, which provides a built-in storage system, usually consisting of drawers, below a sleeping area.
While a ladder is the most popular style, bunk beds with stairs are another option. Many have built-in storage drawers to make the most of the space.
Bunk Bed Style
You want their space to look just as good as the rest of your home. Style is important. But it can't just look good; it also has to be practical and durable. Select a style of furniture that reflects their interests and who they are, and you will create an environment that will have a lasting appeal.
Inspired by historical periods and their social customs, traditional children's bedroom furniture can be ornate, with lots of decorative details. Traditional elements include scalloped edges, turned legs and crown molding are popular choices for white bunk beds for girls.
Country furniture has a relaxed, comfortable look and feel. It includes many whimsical decorative details such as stenciling, embossing, and beadboard. Country furniture is typically made of wood and a combination of wood and metal. It has a warm and homey feel that can make a child's room instantly inviting.
Contemporary children's furniture typically has simple lines and relaxed ornamentation. A contemporary bunk bed can be made of wood, metal or a combination of wood and metal. With its uncomplicated forms, this style is inviting, while being unpretentious.
---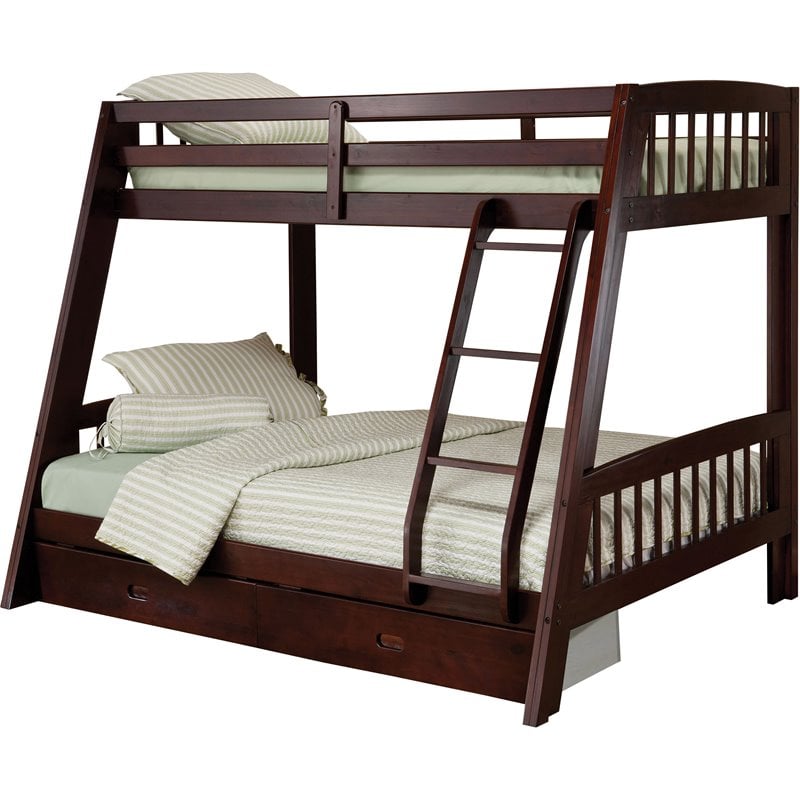 ---
Construction Material
Most bunk beds are made of wood, metal or wood and metal. Wood bunk beds can be made of engineered woods (produced from recycled materials) or real wood. Many manufacturers use wood from trees like maple, oak, cherry or pine for the bunk bed frame because of qualities like durability, strength and grain density. Metal beds can be fashioned out of iron, steel, aluminum or other alloys. Metal bunk beds are a popular choice because they have a contemporary appeal, while being easy to care for and maintain.
Bunk Bed Mattresses
Use a standard size (twin, full, etc.) mattress; unless the manufacturer specifies, the depth of the mattress should be no thicker than eight inches, especially for the top bunk.

Make sure that it's a snug fit: there should be no gaps between the mattress and the frame.

If you are not sure if the weight capacity listed for the bunk bed, especially the top bunk, includes the weight of the mattress, ask for clarification before making a final decision.

Bunkie Boards
Most bunk beds use a type of support system instead of a standard box spring. A bunkie board is a flat, thin platform, usually made of wood, on which the mattress rests. A slat kit consists of strips of wood with spaces in between and is designed to support the mattress without the need of anything else. The bunkie board or slat kit can be included as part of the bunk bed package or are sometimes offered as an accessory item to be purchased separately.
Bunk Bed Safety Tips
Bunk beds are a convenient way to decorate a child's room, whether they will be sharing the space with a sibling or an overnight guest. Especially when the room is small and you want space for "extras" like toys and other neat stuff, the bunk bed can be the ideal space-saver. But is it safe? This is a brief guide that outlines ways to give you peace of mind and keep your children safe and happy when using a bunk bed.
General Bunk Bed Safety Protocol
You can't watch them 24 hours a day, but you can set some ground rules the will reduce the possibility of injury due to a bunk bed accident.

Do not purchase a bunk bed for children under six. If you are buying a bunk bed for older children with younger siblings, children under six years old should not be allowed on the upper bunk.
Limit the number of children on the top bunk to one or the weight capacity of the top bunk.

This is going to be a tough one to enforce, but have a "no bouncing, no roughhousing" on the top bunk rule.

Bunk beds must meet specified industry standards. To produce the best product they can make, many manufacturers follow voluntary standards in addition to the standardized ones. When assembling the unit, follow all of the instructions and don't make any modifications or substitutions. Any alterations you make might compromise the safety of the structure, and in most cases will void any warranty offered by the manufacturer.
---
---
Safety Standards
The U.S. Consumer Product Safety Commission requires that any bunk bed sold in the United States must meet the following requirements:
Have a label that states the manufacturer's name, model number and mattress size information.

Have a warning label that advises against placing children under six years of age in the upper bunk.

It must have a continuous guardrail on the wall side of bed if the bunk bed is taller than 30 inches.

Openings anywhere on the unit, either the upper or lower bunk, must be small enough that a child's head, torso, or limb cannot pass through them.

Guardrails
The top bunk should be protected on all four side to prevent your child from falling out of bed when rolling over in the night. This would include the headboard and footboard, in addition to side rails. Even if you plan on putting the bunk bed against the wall, do not remove the rail; using the full length guardrail will prevent the person on the top bunk from getting trapped between the bed and the wall.

The side guardrails should rise at least five inches above the mattress. If the mattress is too high, it renders the guardrail too low and there is a chance your child can fall off the top bunk while sleeping (especially if he or she constantly moves in their sleep).

The gap between the bed frame and the bottom of the guardrail should not exceed 3.5 inches.

The spaces between the guardrails, whether vertical or horizontal, are also governed by safety standards. They cannot be too wide, eliminating the chance of a child's head becoming wedged in between.

Ladders
The ladder should be well-constructed.

It should not be easily detached by a child. It should also be stationary or fixed (not designed to be moved around).

The ladder should be used at all times, to get up into bed and down from the bed. Discourage them from using a chair, toy box, etc., sliding down or jumping off the top bunk.

Other Safety Things to Keep in Mind
Particularly for first time bunk bed users, consider installing a nightlight to make it easier to use the ladder safely if they have to get out of bed during the night.

When installing the bunk bed, ensure that it is secure and doesn't wobble; if it does, use levelers.

Make regular inspections. Check from time to time that all bolts and screws are still tight and nothing has been broken. If it has, repair it or replace it as soon as possible.

Bunk beds are a great space-saving way to decorate a guest room or a child's bedroom, especially if siblings have to share. While manufacturers, agencies and organizations do everything in their power to make them safe, sometimes they aren't. Following these general guidelines will go a long way to keeping your child safe around bunk beds. And as a parent, you can achieve the peace of mind to sleep soundly yourself, knowing that you're doing everything you can to keep your children safe and sound.