If you are an individual with a large liquor collection but do not have the space for an expansive bar, the good news is you're not obligated to purchase a large home bar. Go for a small design and store your less-frequently served wine, spirits and liquor in a kitchen cabinet while using your home bar to showcase the "good stuff". Consider where you would like to put your home bar and how much space you have to spare. Since home bars come in all shapes and sizes, it's essential to know the dimensions before you go shopping for one. It's also important to consider the different styles of bars on the market. Each serves a different purpose. Read our home bar buying guideto make it easy to find the right style for you.
---
---
A straight bar or front bar is designed to accommodate the host or bartender on one side while guests sit, eat and drink on the opposite side. It is usually placed away from the wall to make room for the person preparing drinks or serving food. Most straight bars feature a flat serving area and includes storage cabinets and/or shelves.
A back bar can be used by itself or paired with a straight bar to create a real life pub atmosphere. It typically has a set of shelves for displaying liquor bottles, a counter top that can be used as a prep area or place to store glasses and cabinets underneath the counter for additional bottle storage. A back bar can also include additional features like a wine rack, utensil or utility drawers and stemware racks.
Howard Miller Piedmont Wine and Spirits Corner Home Bar Cabinet in Cherry
A corner home bar is a great space saver for small or awkwardly sized rooms. Designed to fit into the corner of a room, it can also be an ideal decorating solution for utilizing "dead" space. Why not turn it into a focal point rather than an unused area? It also has the added advantage of being out of the way in terms of traffic flow, making it an ideal place to prepare a cocktail or to chat one on one, while others play a game of pool or watch a movie.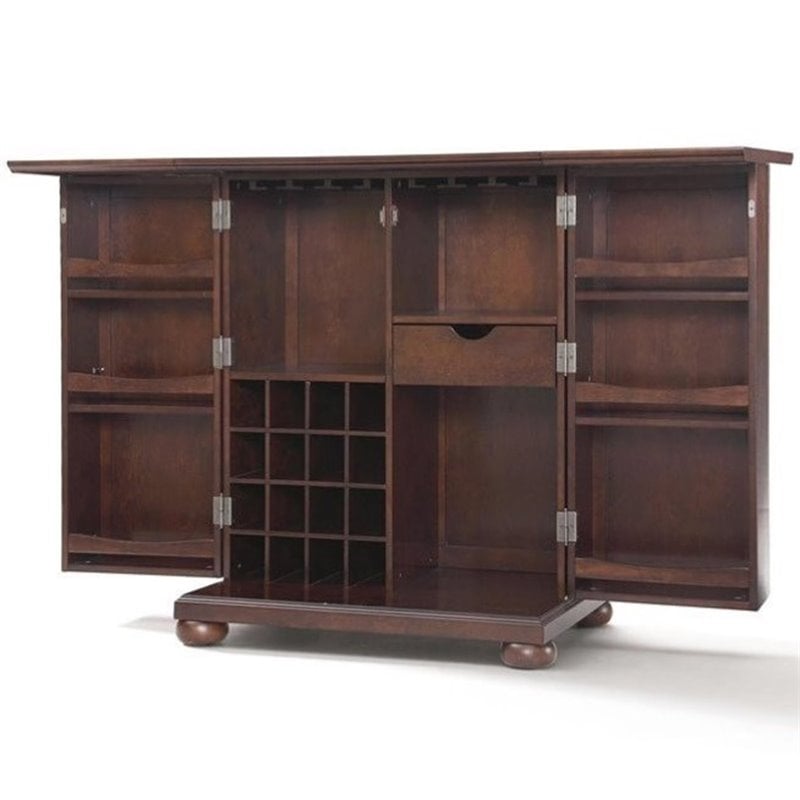 Crosley Furniture Alexandria Expandable Home Bar Cabinet in Vintage Mahogany
A folding bar or swing open bar is another ideal way to maximize the available floor space in your dining room or home office. The sides can be opened out and extended to create the look and feel of a standard size home bar. Flexible and compact, it can be folded out of the way until needed again when not in use.
A hide a home bar resembles an armoire or a small door chest from the outside. But opening the doors reveals wine and spirits storage, a stemware rack, drawers and other necessities for creating the perfect cocktail. Close the doors to protect the contents from dust and other potentially harmful environs such as sunlight. If curious little fingers are a concern in your household, choose one with lockable doors and/or cabinet.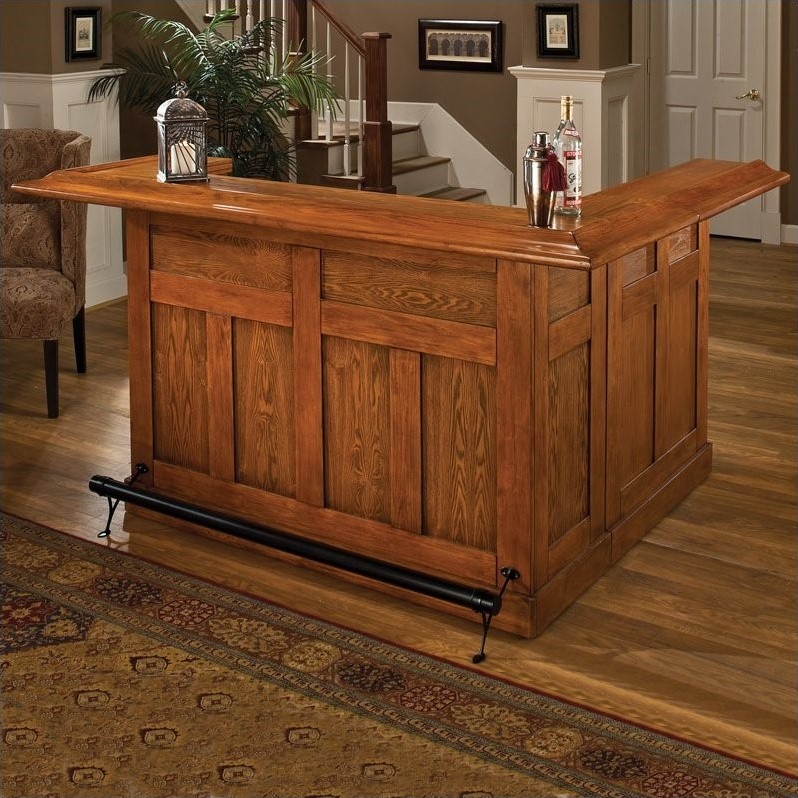 Hillsdale Classic Large Oak Wrap Around Home Bar
A wrap-around home bar has extended counter space on both sides of the front part of the home bar, forming a U-shape. Typically, one side is somewhat shorter than the other to make room for a small fridge or a sink.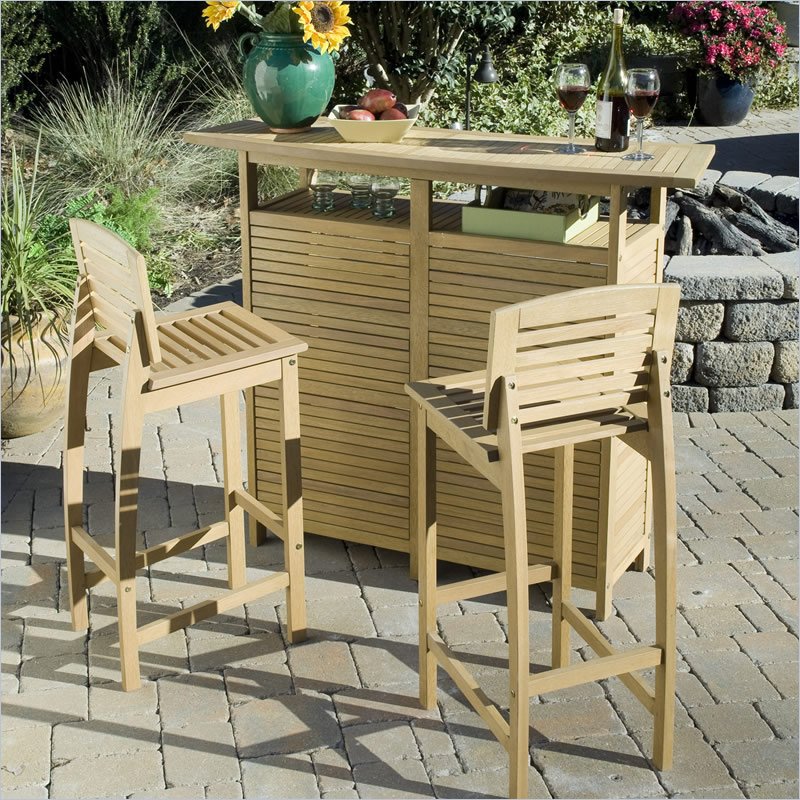 Home Styles Bali Hai Bar Cabinet Set with Two Bar Stools in Natural
An outdoor home bar is constructed of materials and finishes that can withstand the outdoor elements, from extreme heat to a rainy fall day. They can come in a number of themes and styles suited to an outdoor patio or poolside environment.