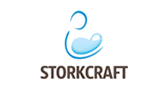 Stork Craft - Equinox
The Storkcraft family has been providing a safe and stylish sleeping environment for babies for over 60 years. As an industry leader with world class excellence in manufacturing and distributing juvenile products, Stork Craft brings years of experience into designing quality, modern, sophisticated and affordable furniture - the very best for your baby. All Stork Craft products are JPMA certified, undergo extensive and rigorous testing, and follow strict safety standards and regulations to ensure that your baby can rest completely safe and sound.
Stork Craft baby furniture has been perceived exceptionally well with parents. Browse their baby cribs including a large selection of convertible cribs, gliders and ottomans, dressers, changing tables and toddler beds. Some of their most popular collections and products are the hoop glider, Tuscany stages crib, Tuscany collection, Aspen collection and Beatrice collection. All of their furniture is available up to 5 difference finishes, with espresso being the parent favorite.
For other lines in the Stork Craft family, visit Status Furniture for nursery furniture and bunk beds and Canwood for furniture for kids and teens.