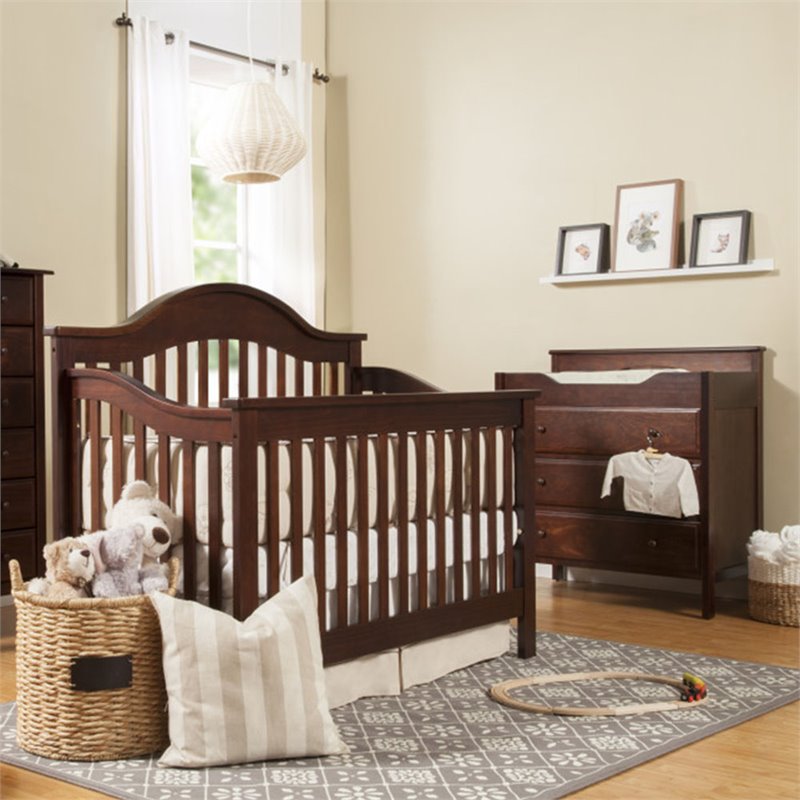 Decorating your baby's nursery is a time to get excited, creative, and practically prepared for your new bundle of joy. You might have designs, furniture, and accessories that you've been dreaming of for years. We know how much fun the process can be, but take a moment to think long term and you might want to look at a baby crib sets when making the final choices about your nursery furniture.
Is furniture coordination important to you? Are you trying to create a stylish look for a small space? Are you hoping to stay within a modest budget while furnishing your nursery? A crib set can accommodate all those needs, particularly when you shop online.
Convertible Crib Sets are a Great Start
Choosing a convertible crib can be a great investment in a bed your baby will keep into childhood – or maybe even longer. A convertible crib can turn into a toddler bed, a day bed, and then a full size adult twin bed. Why not take the strategy one step further and look at convertible baby crib sets. Along with a future-friendly bed, you would receive a matching dresser, and with some crib sets, a smatching changing station or table. Think of all that storage!
By shopping carefully now, you could be investing in a crib set that provides enough dresser space to carry your child through many years in organized comfort. You might be able to justify a larger price tag when you factor in the savings you'll achieve in the long run. If you won't purchase a new bed or dresser for many years, you might want to spend more up front.
Read the product description carefully when you've decided on a convertible crib set. If the package doesn't include the extension rails that turn your crib into a longer bed, be sure to purchase those as well.
Are you excited to have designs that feature a favorite story character or a playful theme? If you do like the idea of a set with a convertible crib, before you make a purchase, think about how long it will really work. Ask yourself whether or not an older child, possibly even a pre-teen, will still want the baby crib sets you're looking at right now. If a baby-themed style is important, you might not need a set with a convertible crib.
Affordable Baby Crib Sets
Investing in a crib set doesn't have to be expensive. If cost is your top priority today, look for baby crib sets from brands like Dream On Me and Da Vinci. Keep in mind that when you opt for one of the more economical crib sets, you'll only receive 2 pieces, likely a basic changing table and crib.
Or, if the idea of not replacing your child's furniture is just as appealing as saving money, you do still have options. Look for relatively affordable 2-in-1 and 3-in-1 convertible crib sets. You won't be able to use the bed for as long as a 4-in-1 crib set, but you'll achieve more mileage from your furniture while still staying within your budget.