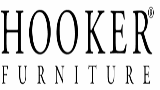 Brand Story
Hooker Furniture was founded nearly a century ago, in 1925. Started by its namesake, Clyde Hooker, the family-run business next had Clyde Hooker Jr. at its helm for a full four decades. His commitment to producing elegant, luxurious, and well-crafted furniture set the brand on a course for success that it has maintained to this day. With its corporate office headquarters located in Martinsville, Virginia, the company is a huge employer in the city of Martinsville and at its North Carolina facility.
It employs close to eight hundred people in total between the two states. Several subsidiary brands are under the Hooker Furniture name umbrella, including Bradington Young and Sam Moore. All three brands are widely regarded as several of the United States' leading producers and distributors of luxury home interior furniture. At the close of his tenure in the year 2000, Clyde Hooker Jr. passed leadership onto the next head of the company, Paul B. Toms Jr, making Paul the brand's third-generation leader.
It's rare for a company to retain leadership in the same family that founded it, and Hooker Furniture is proud to hold that distinction. The brand today is a staple in its communities, enriching the lives of residents by offering work opportunities and giving back through scholarships and charitable donations.
The Hooker Furniture Line
Products and collections from the Hooker Furniture brand are meticulously crafted and produced in facilities around the world. The company leverages the best machinery and technologies along with artisan techniques to output products from distinctive facilities. The majority of the unique upholstery products created under the Sam Moore brand name are produced in a facility located in Bedford, Virginia, while luxury Bradington Young leather products and collections are shipped out Hickory, North Carolina.
Other factory locations that craft and manufacture the company's products are located in Mexico as well as countries throughout Asia and Central America. In each facility, quality control specialists are on site to ensure your furniture is produced to exact quality specifications and meets Hooker's high design standards. An excellent choice for earth-conscious consumers, Hooker Furniture believes in preserving the natural beauty of the world and protecting our limited resources. The brand is committed to minimizing the impact caused by its production and manufacturing activities and has implemented diligent environmental stewardship practices to honor that commitment.
The Hooker Furniture Aesthetic
The Hooker aesthetic is stately and sophisticated. Products and collections are built to last, using top-quality durable materials and traditional designs that will never go out of style. For your living room, you'll find everything you need to furnish an inviting functional space. Choose from accent chairs, sofas, loveseats, recliners, and sectionals. Hooker Furniture products are crafted from the finest glass, leather, metal, and richly-dyed fabrics.
Coffee tables, console tables, and end tables complement seating selections effortlessly, and each table exhibits the traits of fine craftsmanship and a strong attention to detail. For an entertaining space fit for family meals or accommodating large groups, choose from tables, chairs, arm chairs, bar stools, china cabinets, sidebars, and more.
The company believes the dining room is the place where you make memories that last for an entire lifetime, and the table those memories are made around should last. From square metal tables to round wooden styles, the brand carries just what you're looking for.
Beds, nightstands, and dressers on offer will transform your bedroom into a personal retreat. Choose from wood sleigh beds, metal platform beds, tufted upholstered headboards, and more to find the bed that fits best with your style preferences and space.
You'll also find the decorative accents and statement furniture pieces your space craves. Hooker Furniture finishes include dozens of options, ranging from whitewash to rich macchiato, so it's simple to achieve the custom appearance for your furniture that you're envisioning.