---
---
As more and more people discover the joy of tasting and collecting wines from all over the world, they want to display their collection in style. To enjoy your collection to its fullest, wine must be displayed and stored properly. Since there is such a wide selection of both wood wine racks and metal wine racks, wine cabinets and other types of wine furniture to choose from, it might be difficult for you to determine exactly what you need. It doesn't matter if you indulge occasionally or if you are a serious collector, these guidelines for buying a wine rack for your home will help you select the perfect one to match both your décor and your wine storage needs.
Reasons for Buying a Wine Rack
Proper wine storage can help retain or in some cases actually improve the flavor of wine. Wine in properly stored bottles is more conducive to aging.
Wine racks typically provide horizontal storage, allowing the wine bottle to be placed on its side, keeping the cork moist and from potentially going bad.
Wine racks help protect wine from harmful environs like too much light.
A decorative wine rack or wine server or another type of wine cabinet enhances the mood, making even the most casual impromptu gathering a special occasion.
Wine racks are available with a variety of features such as stemware racks and utensil drawers that make entertaining easy and convenient.
---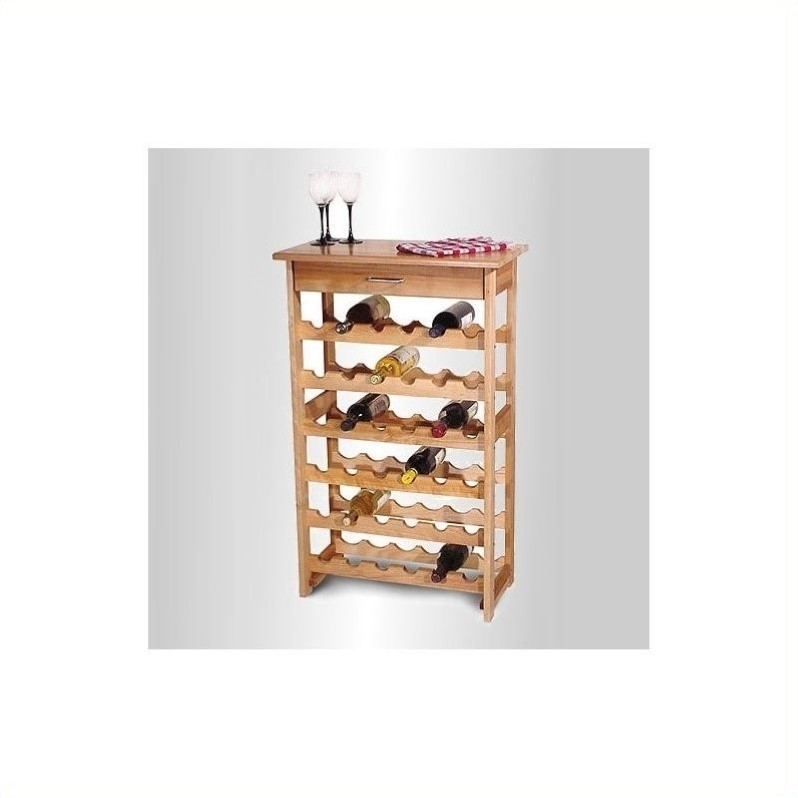 ---
Wine Rack Buying Tips
Determine where the wine rack will be located. Measure the space you've reserved for the wine rack. Where the wine rack is going and how much room you have to work will be influential factors in what type and size of wine rack you will purchase.
If you intend on keeping a select collection of dessert wines in your dining room on the buffet, then a tabletop wine rack that holds five to 10 bottles will be the perfect choice. On the other hand, if you entertain often or are constantly adding to your wine collection, you may be more interested in a wine rack or modular wine rack system that holds 50 or more bottles.
Consider what you want your wine rack to look like. Will it be made of metal and fill an entire wall? Do you want a wine rack made of wood in a mahogany finish to match your formal dining room furniture? Would you prefer to invest in a piece of wine furniture that includes a rack component but might include a stemware rack or a wine tasting table as well?
---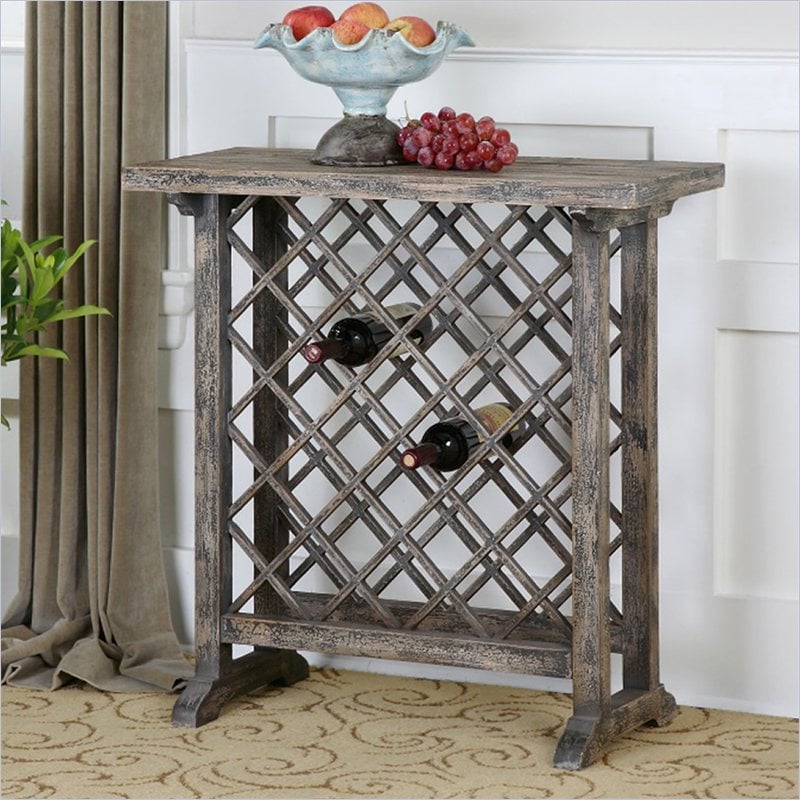 ---
Types of Wine Racks
Standard wine racks come in a variety of styles, designs and configurations. They are typically made of wood or metal or a combination of wood and metal. A standard free standing wine rack is generally designed to store wine horizontally or at a slightly inclined angle. Decorative wood wine racks or decorative metal wine racks lend an air of sophistication to any room. Wine racks should not be more than eight bottle rows in height. For a rack that is any taller and does not come with optional hardware, it is advisable to secure the unit to the wall, if possible.
Modular wine racks are ideal for the avid collector or the wine aficionado whose collection is continually growing. Even if you're not planning to evolve your one unit into a wine cellar or a wine tasting room, modular racks add versatility and functionality to your room. Customizable premium kit wine racks, give you more options. Stackable wine racks are a type of modular rack that allows you to build up instead of out, utilizing wall space rather than reducing floor space. Since they can be configured to your specific needs, modular wine racks can provide the ideal decorating solution for awkwardly shaped rooms.
A tabletop wine rack is a great accessory to have sitting on a kitchen island, dining room table or a sideboard. Tabletop wine racks tend to be decorative and some manufacturers offer some versions that resemble wire sculptures or works of art that add a creative touch to your living space. Some types of tabletop wine racks store the bottles upside-down.