---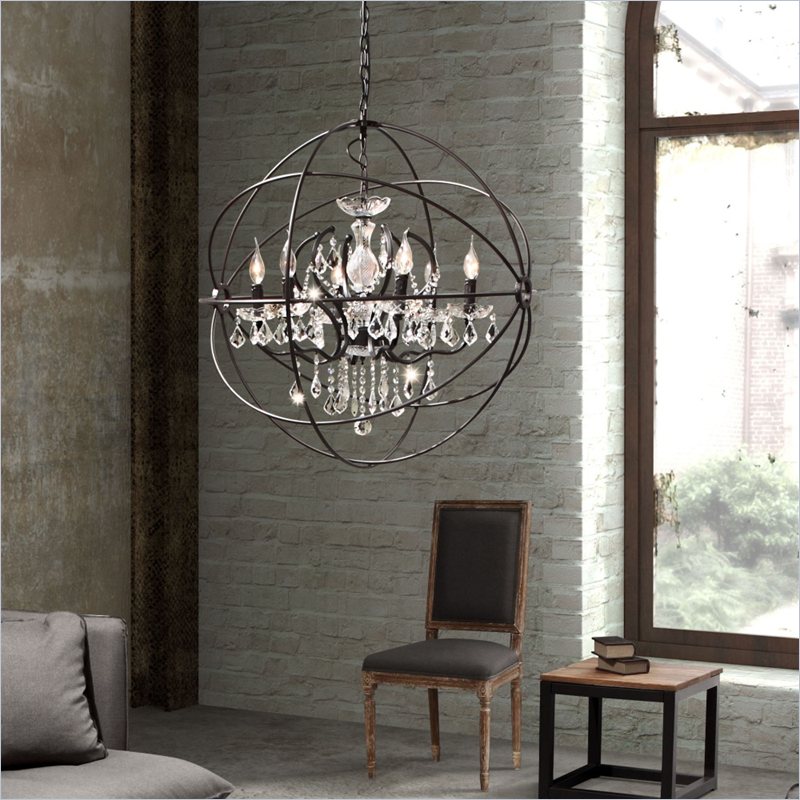 ---
There's no denying that
chandeliers
are the best way to add some sparkle to your home. They sparkle and shine and add a serious hit of style to your dining room or foyer. But there picking the right one can be a challenge. What size to choose? How much light? And what style? To answer these questions and more, we've put together this handy guide.
Chandelier Buying Guide
Chandelier Size
First things first: it's important to select the correct size. A chandelier for your dining room will likely have much smaller proportions than one in a grand foyer. Finding the right size can be a daunting task. Follow the steps below to ensure a perfect fit.
Height
Start off by measuring your ceiling height. The popular rule of thumb is to select a chandelier that has 3 inches of height for every foot of space (or about ¼ the total height of the room). That means a room with a standard height of 8' would do best with a chandelier that is no more than 24" in height.
Diameter
Diameter is another important factor to consider. Generally, a room that is smaller than 10 by 10 feet goes well with a chandelier that is between 17 and 20 inches in diameter. A larger room of 12 by 12 feet can accommodate a chandelier between 26 and 27 inches in diameter. Additionally, if the room is 14 by 14 feet, or larger, the chandelier should have a diameter of 24 to 36 inches.
If you are selecting a chandelier for your dining room, take the size of the dining table into consideration. Typically the chandelier should be at least 12 inches narrower than the dining table. This will prevent you or your dinner guest from accidentally bumping into your new fixture.
Don't select a chandelier that is too large for the space! A chandelier in an over height space like a foyer needs to be large enough to fill the space. Here are some basic guidelines: a room that is 10 x 10 feet or smaller requires a chandelier that is 17-20 inches wide. A 12 x 12 foot room can go for a slightly larger light that is 26 or 27 inches wide. Rooms that are 14 x 14 can accommodate a diameter of 24 to 36 inches.
---
How High to Hang It?
For a chandelier hanging over a table, the rule of thumb is to hang the chandelier about 30 to 34 inches above the table or countertop. If your ceiling is taller than the average 8 feet, hang the chandelier 3 inches higher for every extra foot of space.
If you are hanging a chandelier in a double height space, be sure that the light illuminates the stairway or side passages. If you can, try to ensure that the chandelier ends at about knee level when viewed from the upper floor. Always ensure that the fixture hangs at least 7 feet off the floor. If you are hanging a chandelier in a foyer with a window, be sure that the chandelier is visible from the exterior.
---
Chandelier Style
Many styles of chandeliers are available, their terminology can be a little confusing. Here is our handy guide to some of the best known chandelier styles:
Drum Chandeliers


Drum chandeliers are a popular choice for transitional interiors. They are typically comprised of a small chandelier encased by a round drum shade. The shade helps the light to emit a warm glare-free light.

Arts and Crafts Chandeliers


If your are looking for a wonderful choice for your West Coast or Mission-style home, this is it. This style is typically seen in dark colors like oil rubbed bronze and features amber or stained glass.

Candle Chandeliers


Candle chandeliers feature designs that resemble candlesticks. While often they are left unadorned for rustic look, many times they are used in conjunction with mini lampshades for an elegant look.

Mini Chandeliers


Mini chandeliers are a great choice for a room that needs a little glamor but can't quite accommodate a full size chandelier. Try adding a mini chandelier to a bedroom or kids room. Many designs have plastic pieces in lieu of real crystal or glass making them a great choice for a children's bedroom.

Modern Chandeliers


The word chandelier might conjure up glamorous old-fashioned fixtures dripping in crystals but today's designs are made to fit your modern lifestyle. Whether fitted with crystals or glass bulbs, these styles are sleek and contemporary. They typically feature gloss chrome, brushed nickel or shimmery gold metal frames, making it a snap to find the right one for your home.
Beaded or Capiz Chandeliers
If you are looking for a funky or trendy look, these chandelier styles are a great choice. Capiz shells have a shimmery white finish and offer a tropical vibe. Beaded chandeliers are often colorful and bright making them an ideal pairing for eclectic room décor.
Antler Chandeliers
Antler chandeliers incorporate antlers into the lighting design and are a wonderful fit for a cabin or lodge.
---
Chandelier Bulbs
You're not done yet! Be sure to choose the right bulb for your chandelier to create the optimal look. Go for a low wattage bulb, especially with a chandelier that requires several bulbs. Avoid high wattage bulbs to avoid unflattering shadows, glare and excess heat. Consider adding a dimmer switch to allow for even more control over your new lighting scheme.
If you are renovating your space, think outside the box. Design a lighting scheme that incorporates recessed puck lights as well as the chandelier to create extra ambiance. You might also want to consider adding a chandelier medallion to the ceiling for added emphasis.
Chandelier Cleaning
Cleaning your chandelier is an important part of maintenance. It's wise to clean your chandelier once a year to ensure it shines brightly. Make sure you purchase cleaner that is appropriate for your chandelier, as there are a number of cleaning liquids and waxes on the market. Or you can make your own with a mix of ammonia and distilled water. Always be careful to avoid getting the wiring wet and wait at least 24 hours before turning the light back on.