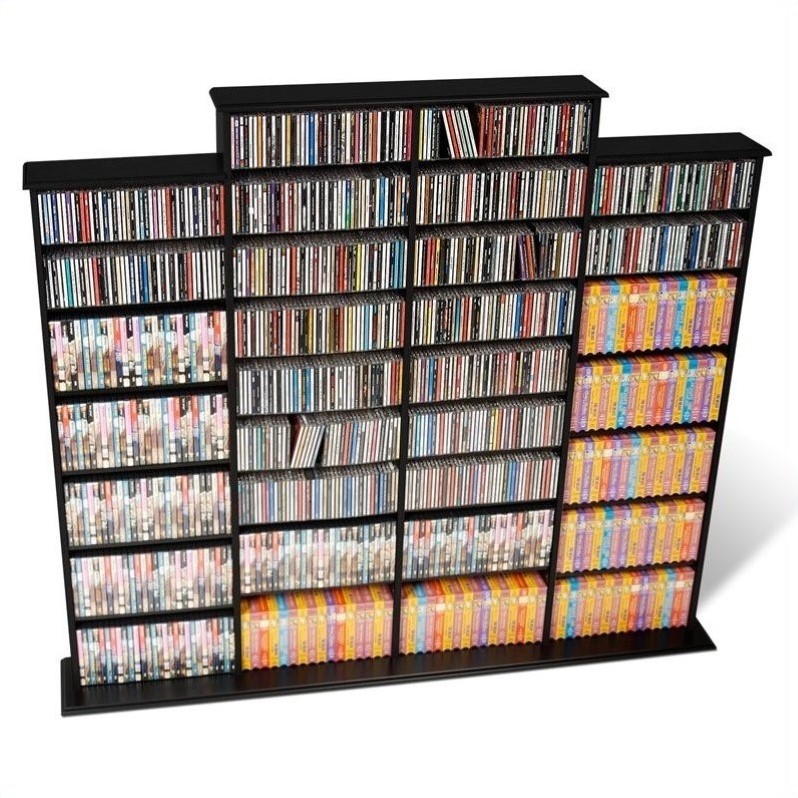 Does the thought of re-organizing your movie or music collection make your head hurt? You know that DVD storage and wall mounted CD storage options make sense, but the selection you've seen so far is limited. Have you given up on the search after finding the same boring shelving choices at your local home furnishing stores?
Start browsing online for an impressive selection of media storage solutions that will get you excited about making your media products easy to manage.
A Space Saving Media Storage Cabinet
Are you the person that can never wait to own the latest blockbuster? Or maybe you're a fan of a particularly prolific band. Naturally, you're thinking about media storage.
If you don't want to give up any titles in your movie or music collections, make capacity a high priority when shopping for a media storage cabinet. Keep in mind that you have the option to use a combination of wall storage unit, storage cabinet, and storage drawer products to meet your unique needs.
Media Storage without Sacrificing Style
Drawers, shelves, doors, and slots make media storage cabinet configuration possibilities virtually endless. Mostly made with wood and metal, other materials include leather, nylon, plastic, and wrought iron.
Whether you're picturing a Victorian antique-inspired design or a sleek modern storage cabinet, the right piece of furniture to complete your media room won't require a custom build. Selection online is diverse enough for all tastes.
Will you want to store anything other than DVDs or CDs? Stylish media storage stands and end tables often incorporate magazine racks and general storage drawers. Many wall storage unit models offer shelving over cabinet combinations that make for a lovely piece of furniture you'll be proud to own.
Selecting Your Storage Cabinet: Function or Form?
The cost of replacing movie DVDs and music CDs adds up quickly, so it makes sense to store them safely and securely. However, expensive computer applications and crucial documents stored on disk can be worth exponentially more. Select a lockable, fireproof product or a compact storage drawer cooler to protect those critical disks with utter peace of mind.
Then again, perhaps form is your highest priority in media storage. You value your reputation for creating an inviting space and want your guests to be comfortable and impressed by your home. Why not opt for a stylish storage pedestal? Try a media storage product cleverly disguised as an ottoman and surprise guests with your resourceful flair.
A Wall Storage Unit for your Budget
Once you have an idea of the style and capacity features you're looking for, budget will be your next concern. Media storage cabinets come in a diverse range of prices. Regardless of how cost-effective your DVD storage or wall mounted CD storage needs to be, you'll still find a reasonable selection.
Easy to Set Up, Easy to Use Media Storage
Is ease of assembly an important feature for you? Will you want to view some or all titles at a glance? Or do you prefer to conceal your collection behind solid cabinet doors or inside drawers? Think carefully about what you need from your media storage cabinet in terms of functionality.
When you review storage drawer and storage cabinet models, you'll find further construction choices in terms of floor stand DVD storage, table top DVD storage, or a wall storage unit. Be sure to select a product or combination of storage products with the configuration you'll find most handy in the long run. Remember, you won't stop collecting now!
Now that you're pumped to install your media storage cabinet, the process of reorganizing that collection won't seem so daunting. Because you've found the right combination of form and function, solving your media storage challenge will be a breeze.
And you'll be glad you did the research up front to help you find a product that will realistically meet your needs.