---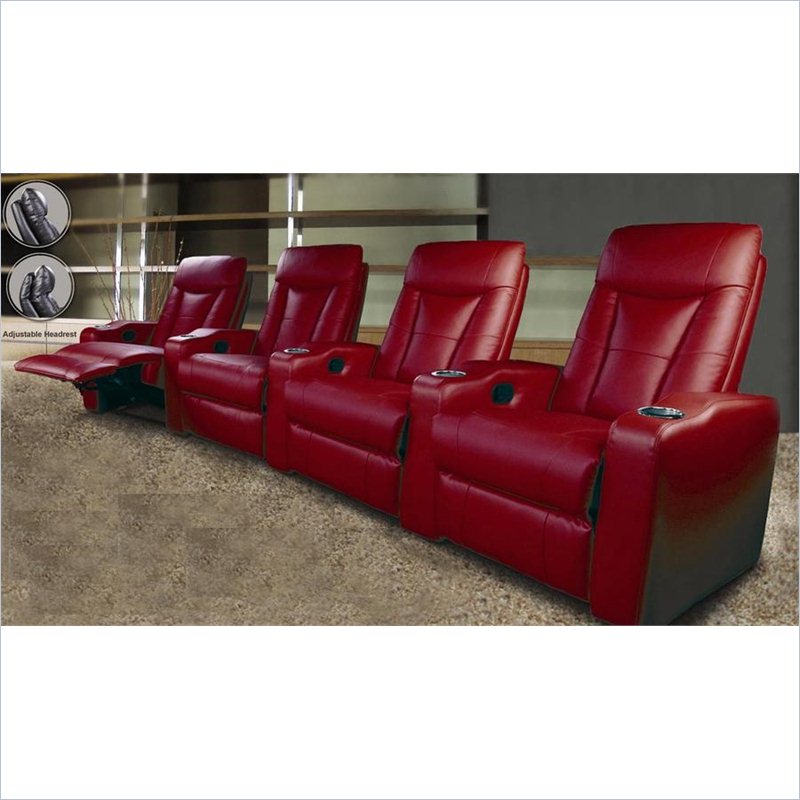 ---
Home theater recliners allow you to get really comfortable while you watch your movie, the Sunday game or a Mad Men season two marathon on DVD. In addition to being an ideal way to sit back in luxurious comfort while watching the screen, theater recliners have special features designed to enhance your viewing pleasure. How do you know which ones will be right for your media room or anywhere else in your home that is dedicated to television/movie watching? This brief guide outlines what to look for when you're buying seating for your family room, home theater or media room.
Types of Home Theater Recliners
Home theater single recliners and 2-seat, 3-seat and 4-seat theater recliners are available in a wide range of styles, colors and models. When choosing the type of theater recliner that will best suit you, keep the following in mind:
The dimensions of the room – even wall huggers and zero clearance home theater single recliners need some room to tilt backward
The shape of the room – will space allow continuous rows as in a movie house or will you need an aisle
Home theater recliners typically take up more room than fixed home theater seating
Popular types of home theater recliners include:
Manual home theater recliner – reclines by a lever or a push-mechanism
Power home theater recliner – also called motorized home theater recliners
Home theater single recliner – freestanding recliner intended for one person
Home theater multiple seating recliner – recliners joined together in such a way that they can be configured into rows for viewing the screen like you would in a movie house
Features of Home Theater Recliners
Both home theater single recliners and home theater multiple seating recliners come with a number of different features that enhance the comfort they offer. Before making a final decision, discover which combination of recliner features will best suit your viewing requirements. Some common home theater recliner features are:
Cup holders – either one arm or both; lighted or standard
Adjustable headrests – a feature of power or motorized home theater recliners
Storage – hidden storage compartments perfect for the remote, extra munchies or whatever
Automated features allow viewers to experience the action as it happens on the screen
Tips for Buying Home Theater Recliners
Make sure that the recliner you are buying is well-made. The Coaster home theater recliner and other top brand name manufacturers like Berkline, Bass and Tandem start with frames constructed of kiln dried woods, which makes them stronger and more durable.
Ensure that all mechanisms and levers work quietly and smoothly.
Because you will be spending a fair bit of time in your theater recliner, choose one with plush cushioning.
Consider the fabric you want your home theater recliners to be upholstered in. If you'd rather be watching movies than cleaning, select fabrics like leather, microfiber or vinyl that can be easily maintained.
Buy the theater recliner that's right for your body size. Many manufacturers offer a wide variety of styles and models for both standard and oversized home theater recliners.