How to Buy Dining Room Furniture
Nothing makes a better family gathering spot that a fully furnished dining room. After all, getting together and enjoying a home-cooked meal is the best way for a family to connect. However, dining rooms don't always have to be about family connection – they can be used to dine solo or as a couple as well.
Don't feel limited to just having a table and chairs in your dining room – there are more dining furniture options than you think! Read on to find out about how to buy dining room furniture and learn what types are ideal for your home.
---
Dining Tables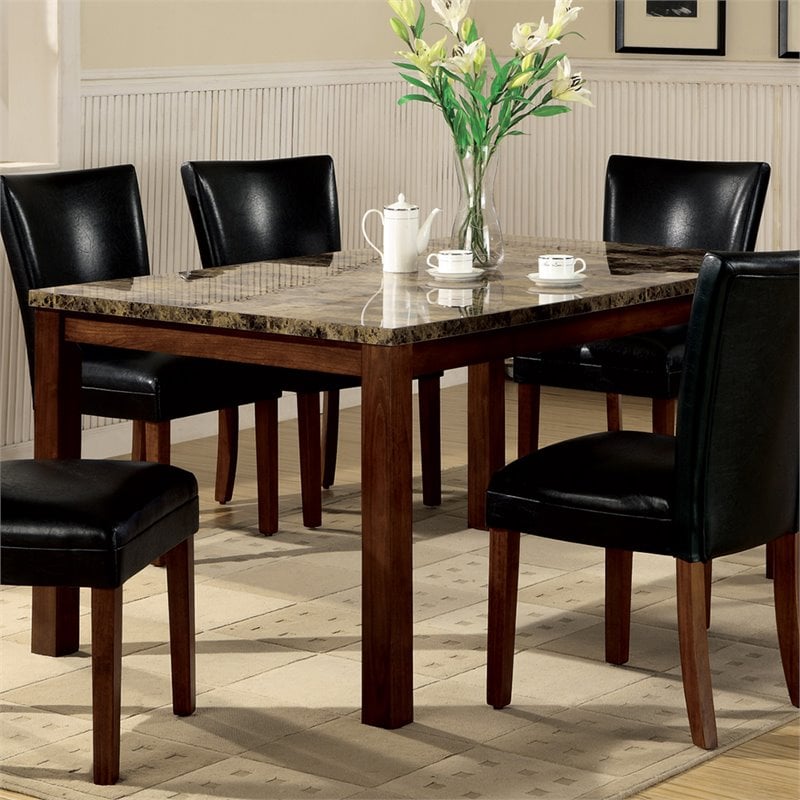 Coaster Telegraph Rectangular Dining Table with Faux Marble Top in Medium Brown
With so many dining tables to choose from on the market, starting your design search can be overwhelming.
First, you should know how much room you have to spare in your dining room. You don't want to choose a table that doesn't end up fitting your space! Take measurements of your dining room and then check the measurements of the table you're interested in. Next, the dining table will be the centerpiece to your dining room, so think about what kind of style you'd like it to be. Here are some common dining room table styles:
Leg Base Dining Room Tables
Somerton Cirque Oval Leaf Casual Dining Table in Merlot Finish
Leg base tables are the standard dining room tables, with one leg in each corner. They're great for small families, but if you want to sit more people, the legs might get in the way.
Pedestal Dining Room Table Sets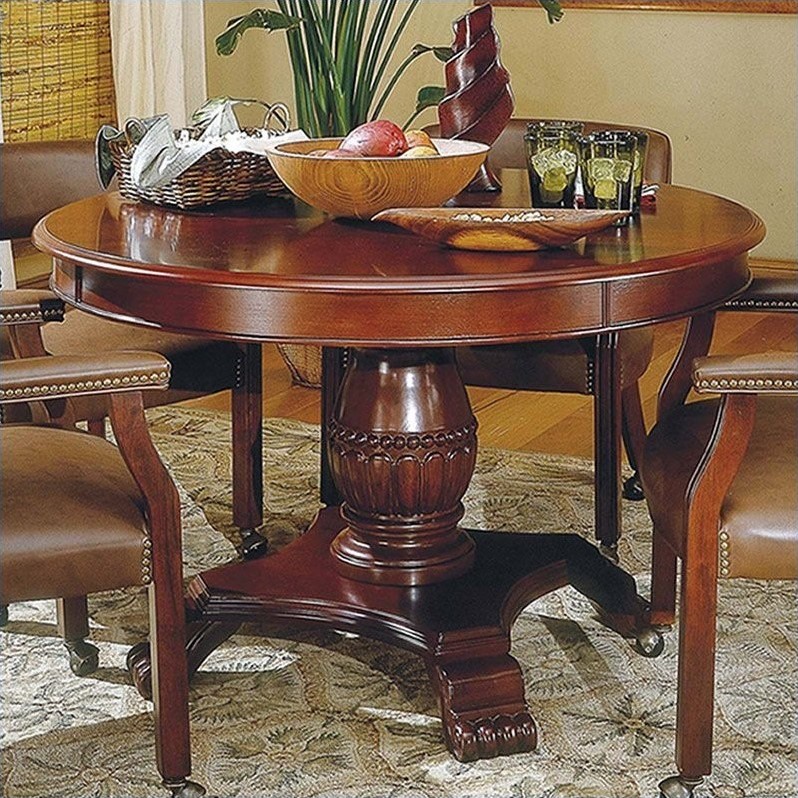 Steve Silver Company Tournament 48" Wood Round Casual Dining Table in Cherry Finish
These tables are normally round in shape with a one leg base in the center. The leg base can be quite detailed or ornate. A pedestal table is a perfect choice whether you want a dramatic and regal table or something simple and country.
Trestle Dining Sets
Tommy Bahama Road To Canberra New South Wales Dining Table in Moderately Distressed
Trestle dining tables feature two sets of legs connected by a horizontal beam. They're normally rectangular in shape, therefore more suited to a lengthy dining room.
Drop Leaf Dining Sets
Jofran Double Drop Leaf Casual Dining Table in Dark Chianti Finish
A drop leaf dining table features leaves attached by hinges that you can raise or lower depending on how many people are seated at your table.
Lift Top or Flip Top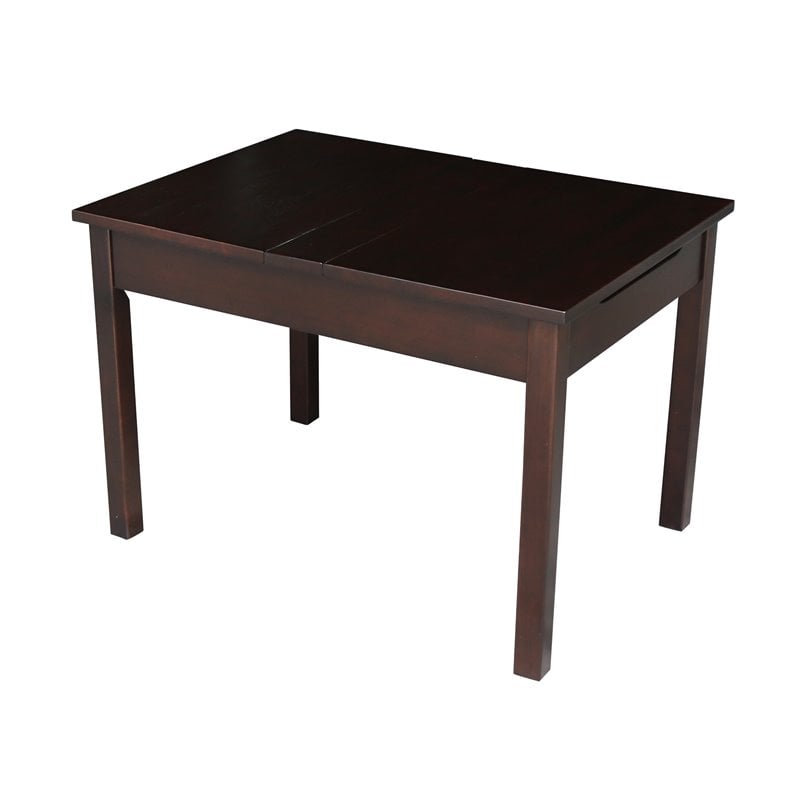 International Concepts Dining Table with Storage in Rich Mocha
If you are looking for added storage, a lift top dining table is a wonderful choice. Th is style of dining table has been designed with concealed storage underneath the tabletop. It's the perfect space to store extra linens and entertaining supplies.
---
Dining Chairs
Wynwood Garden Walk Side Chair in Latte
Your dining chairs might not take center stage but it's still important to buy ones that are both attractive and cozy. Although you might spend more time on the couch, your dining chairs should still be comfortable to sit on for long periods of time.
When it comes to fabric, leather and microfiber chairs are the most popular choices because they repel stains. Fabric chairs may not do so well with stains but you can always invest in a machine-washable slipcover if you like the look of fabric.
Classic wood dining chairs are the most popular choice of all. Here are a few different styles of wooden dining chairs to check out:
Windsor Dining Chairs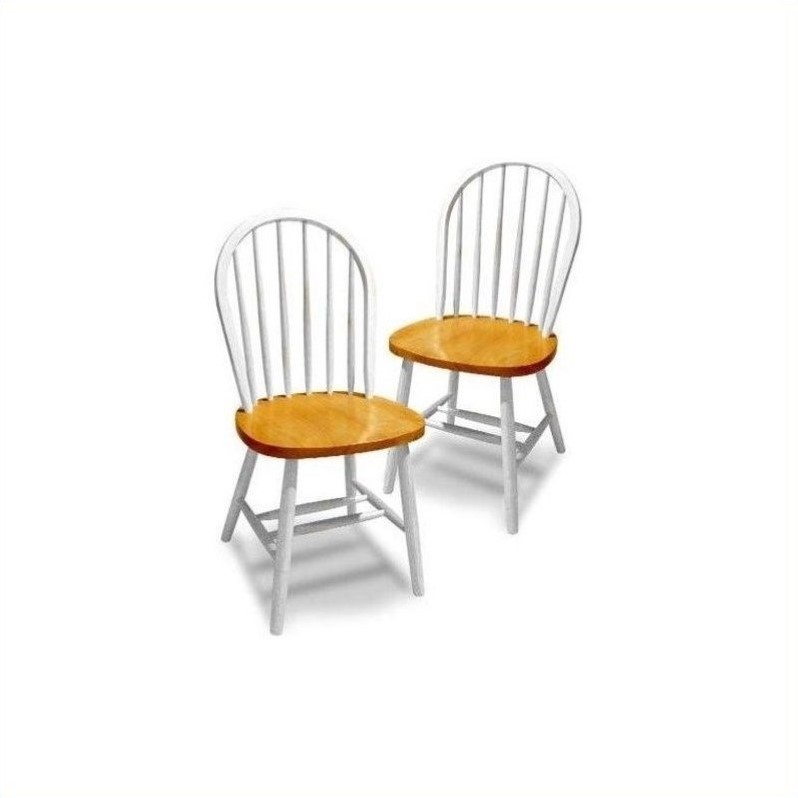 Winsome Windsor Dining Wood Side Chairs in White/Natural (Set of 2)
This classic, country-styled chair features turned spindles in its rounded back. Windsor dining chairs also feature stretchers between the legs, giving them a detailed but casual look. This chair is also sometimes called an arrow back chair.
Ladder Back Dining Room Chair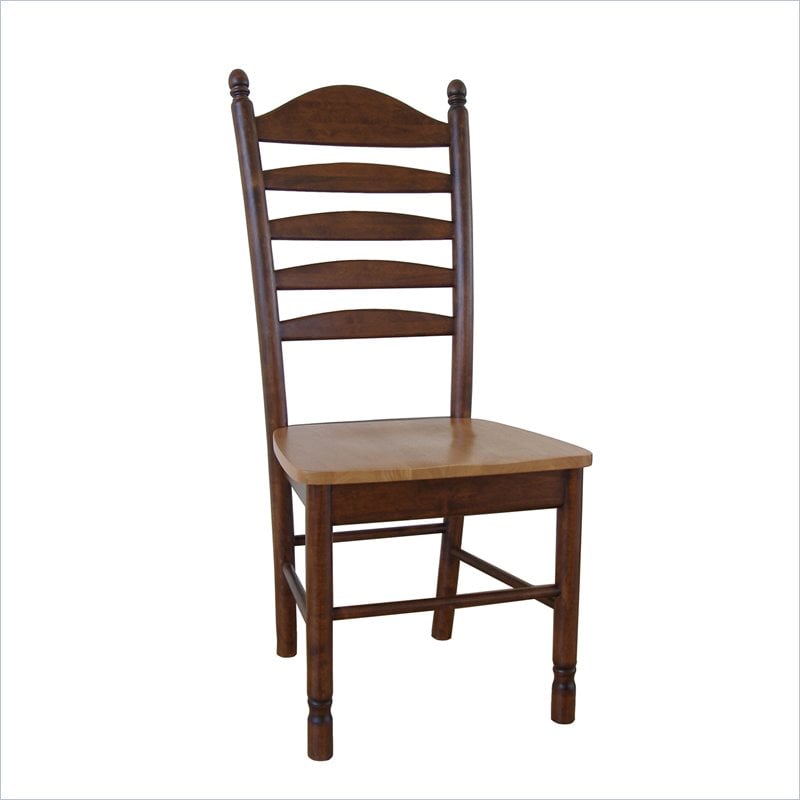 International Concepts Madison Park Ladderback Wood Side Chair (Set of 2)
Ladder back chairs
feature horizontal rails in the back, much like a ladder.
Parsons Dining Room Chair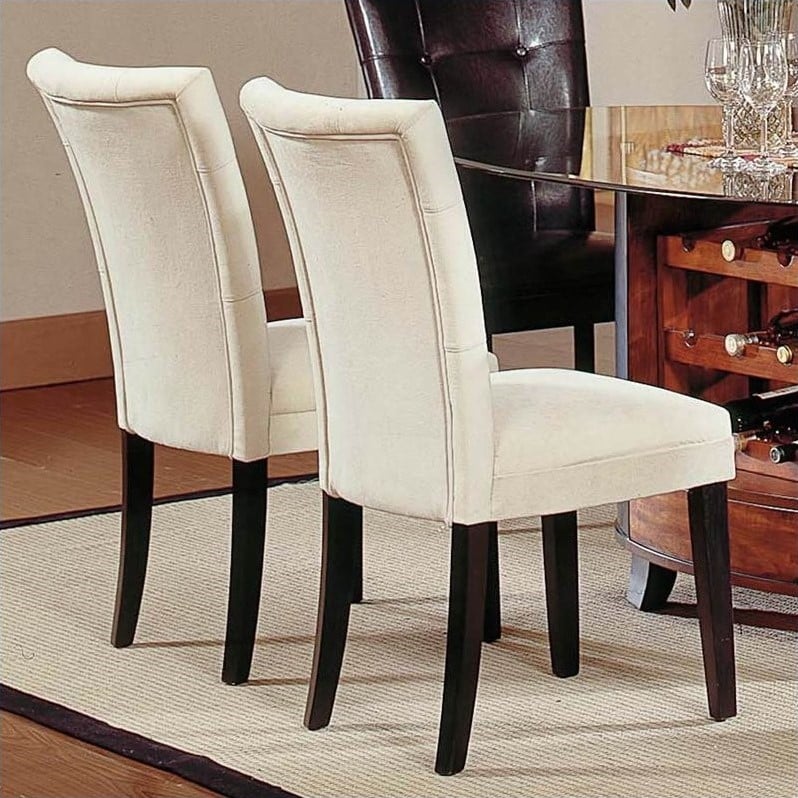 Steve Silver Company Matinee Fabric Dining Parson Chair in Beige
The Parsons chair gives off an elegant and contemporary look. They generally feature a tall, slightly curved back, and are normally upholstered in microfiber or leather.
---
Dining Sets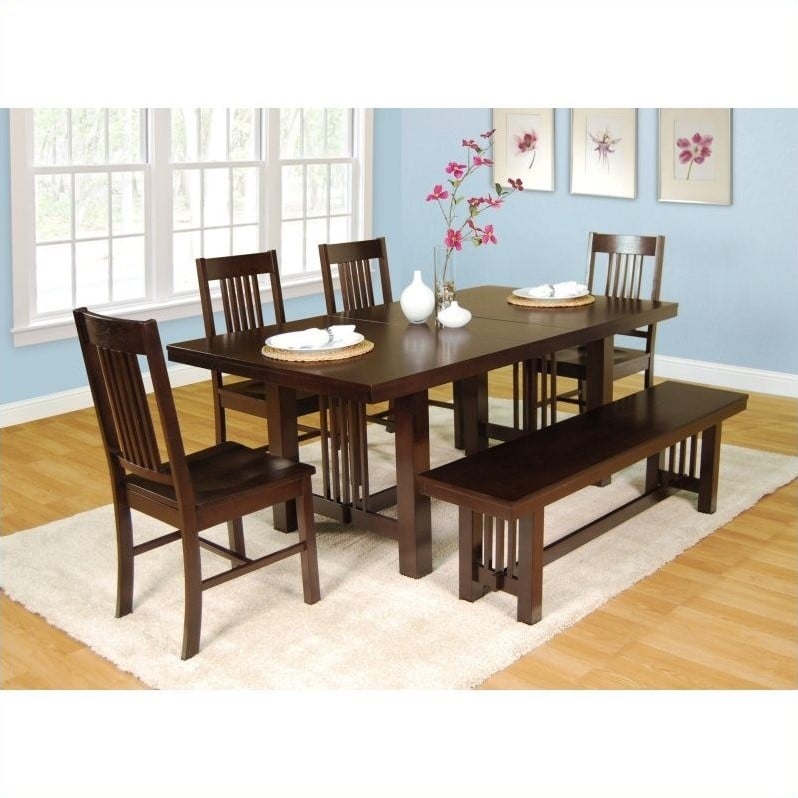 Walker Edison 6-Piece Meridian Wood Dining Set in Cappuccino
Of course, you don't have to purchase your chairs and table one at a time – there are plenty of matching dining sets available in all different sizes and styles. It's an easy way to bring home a matching look.
Dining sets are ideal if you want a dining table and chairs that fit together, and want to save money in the long run. Since you won't be buying pieces separately, you'll also be saving time. Here is a selection of different dining sets to choose from, based on the number of seats:
3-Piece Dining Set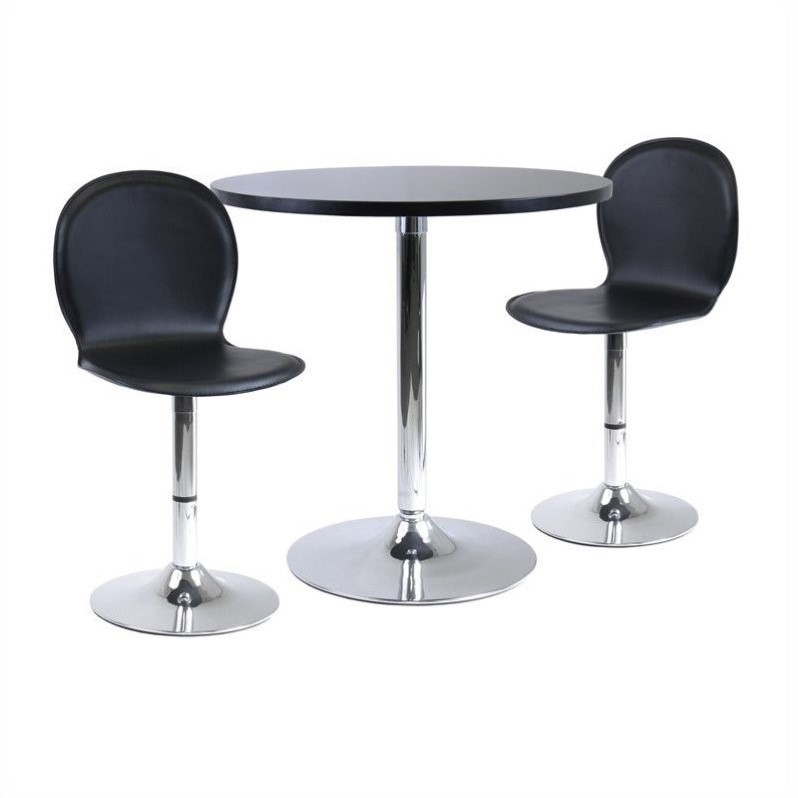 Winsome Spectrum 3pc Dining Table Set w/ 2 Swivel Stools in Black/Metal
Three piece dining sets feature a table and 2 chairs. These sets are suited for apartment dwellers who live solo or a couple living together.
5-Piece Dining Set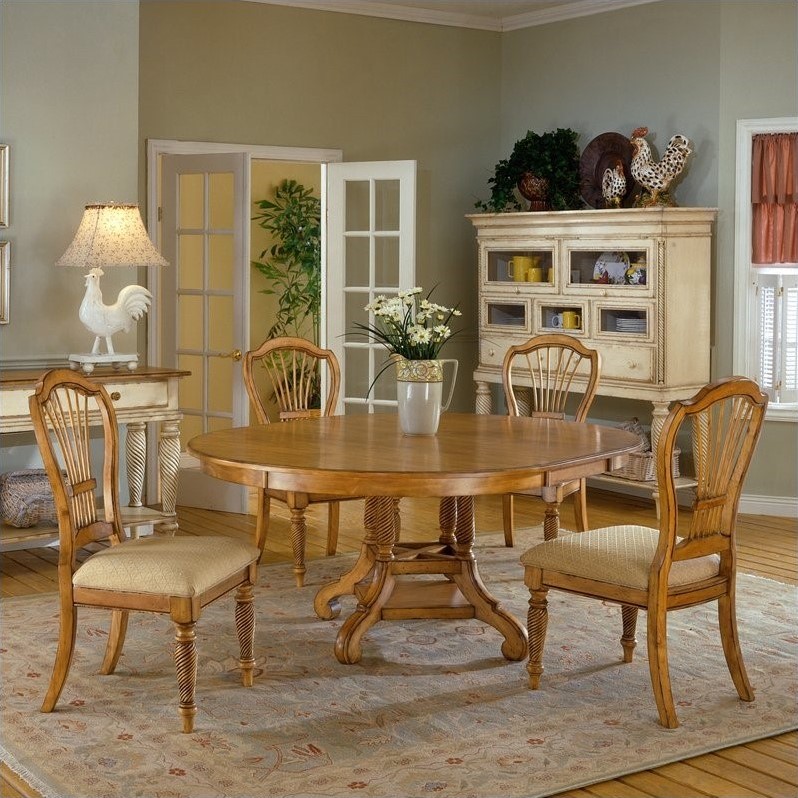 Hillsdale Wilshire 5 Piece Round Dining Table Set in Pine Finish
A five dining set is ideal for a couple or a small family. It features a table and four matching chairs.
7-Piece Dining Set
Homelegance Ohana 5 Piece Round Dining Table Set in Antique White and Warm Cherry
With a table and six chairs, the seven piece dining set is ideal for a family that's between four to six people in size.
9-Piece Dining Set
Somerton Runway Contemporary 9 Piece Dining Set
Eight chairs and a table complete the nine piece dining set. A nine-piece dining set is best suited for large families or those who entertain frequently.
---
China Cabinets
American Drew Cherry Grove Canted China Cabinet
China cabinets mix storage and display into one. The top hutch is usually made of glass so you can show off your collectables, while the bottom has drawers or cabinets for concealed storage.
---
Curio Cabinets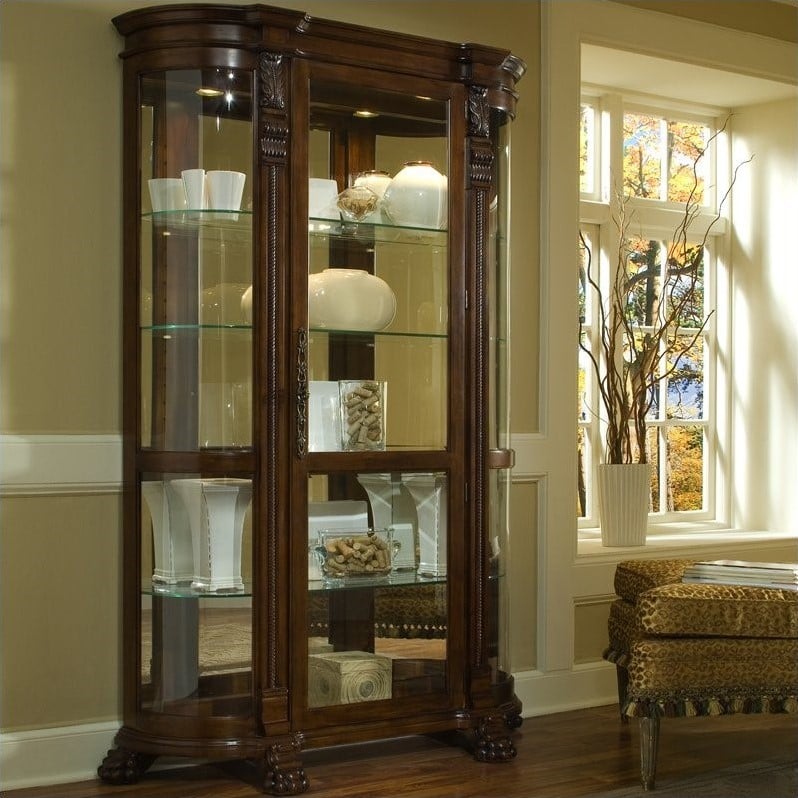 Pulaski Foxcroft Curved End Curio Cabinet
Unlike china cabinets, the curio cabinet is just made to be a display case. It has a glass front and sides with no closed cabinet areas. Many also feature a mirrored back or integrated display lighting.