---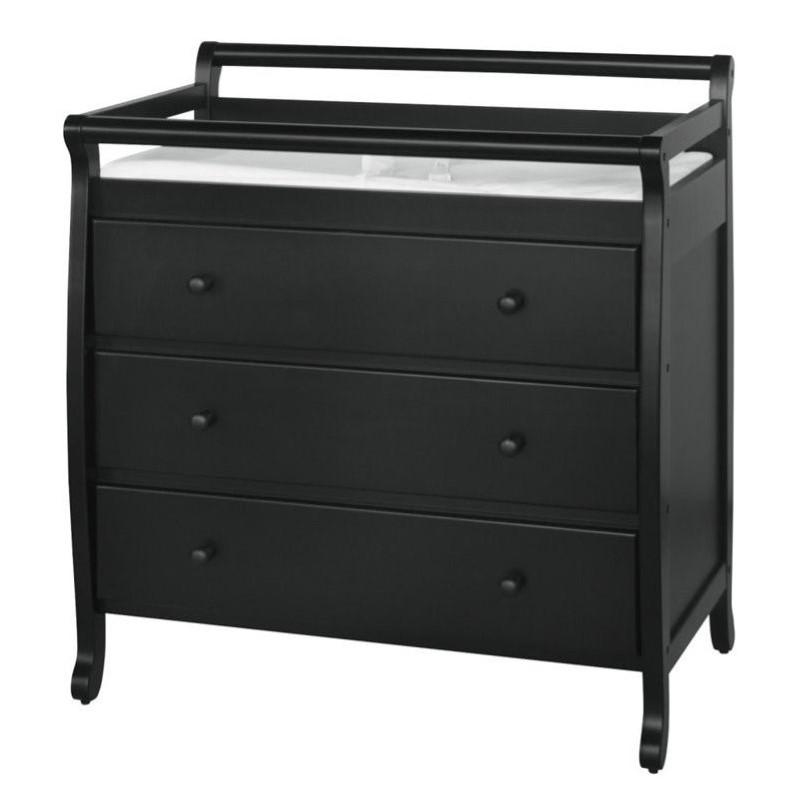 ---
When you're furnishing your baby's nursery, a baby changing table isn't the first piece of furniture that springs to mind, but it's an important piece nonetheless. It's true that you can change your baby on the floor, the bed, the countertop etc., but it's nice to have a reliable place to change your baby's diaper that will be comfortable for both you and your little one. On any given day, you'll be changing your baby's diaper anywhere from 8-15 times, so make it easy on yourself and find a safe and reliable baby changing table.
A baby changing table positions the baby at a height that won't require you to be bent over in an awkward position, saving you unnecessary back pain. Look for a changing table that reaches to about waist height; that way you won't have to twist or bend in order to finish the job.
Some people hesitate when it comes to purchasing a baby changing table because they think it will become redundant within a year or two. While this may be the case, oftentimes manufacturers produce baby changing tables that can be repurposed as a dresser or desk.
---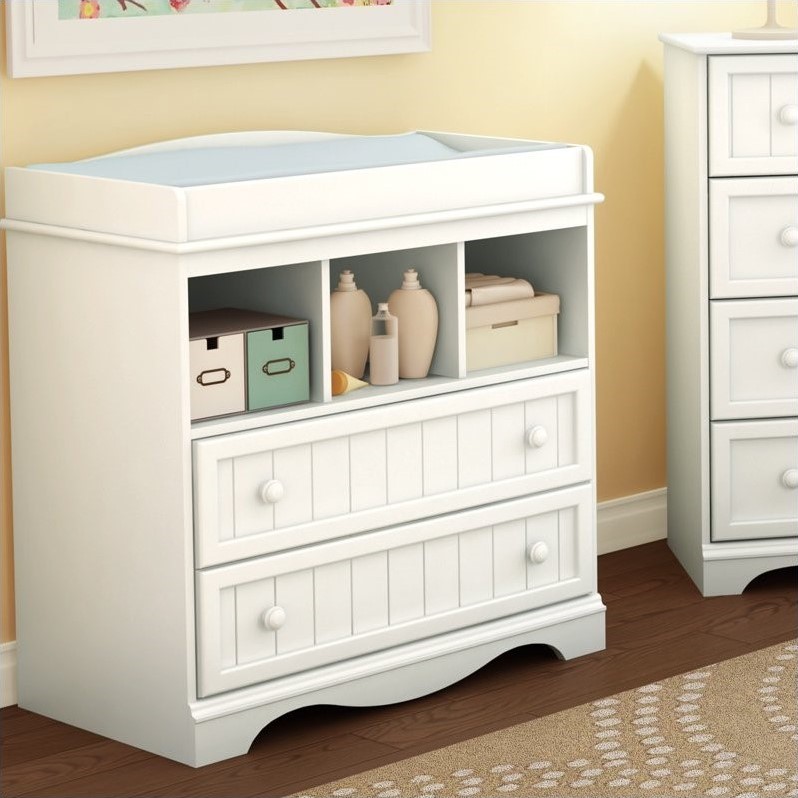 ---
Before You Begin
A change table consists of a flat surface designed to comfortably hold your child while you change him or her. It is also designed to keep your child securely in place during the process.
To be comfortable and be able to move easily and without straining or bending, the changing table should be at your waist height.
Consider what kind of changing table you would like: a freestanding one or a crib with an attached changing table?
Changing tables can be roughly divided into two major types; one type resembles a dresser or chest of drawers and the other looks like a set of open shelves. If you prefer to keep everything out of sight, choose a change table with cabinet doors or a set of drawers.
Change tables come in a variety of styles and configurations. Before making the purchase final, consider other features you would like your changing table to have. Do you want all drawers or a combination of drawers and cubbies? Would you prefer a cabinet-style changing table?
If you are hesitant about buying a change table because of its short life span, purchase a type of changing table that can be repurposed as a dresser or storage chest.
---
A Safe Baby Changing Table
Your baby's safety is your number one concern, and there are a few things you can do to ensure that your baby will be safe whenever it's time for a change. You can find changing tables that include safety straps and guardrails that will keep your baby secured safely in the confines of the table. Also, look for a changing table with rounded corners so that your baby won't get caught on any sharp edges.
Baby changing tables often come with a changing table pad that will keep your baby comfortable, but if you think it's too thin, simply replace it with a thicker pad. Also, if your changing pad is machine washable, make sure to throw it in the wash on a regular basis.
The best way to ensure that your baby changing table is safe is to go with a trusted manufacturer like DaVinci changing tables, Babyletto Modo changing tables, Child Craft Changing tables and more.
---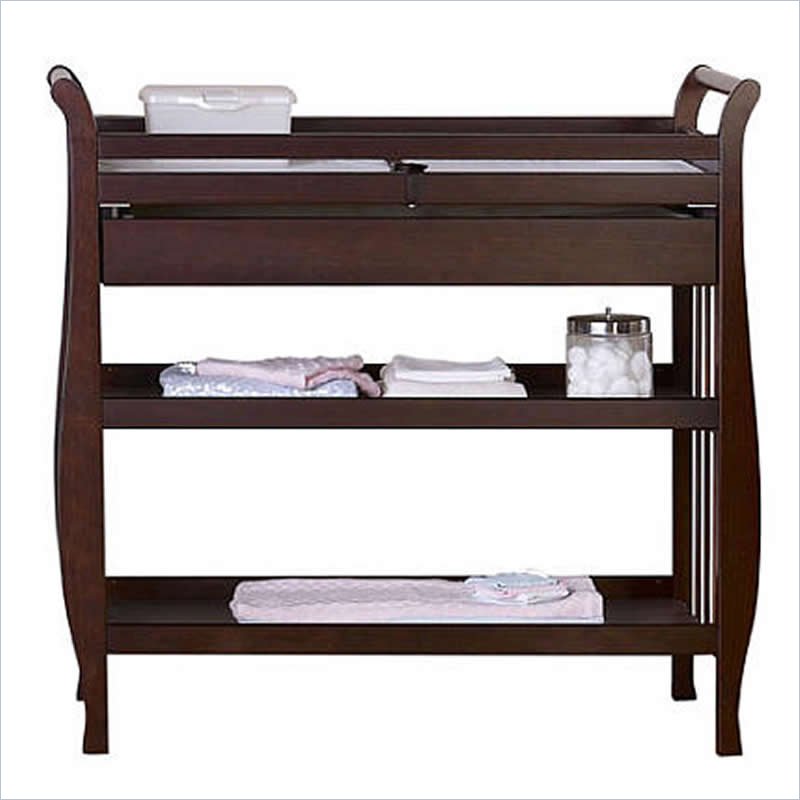 ---
Baby Changing Table Style



As stated before, oftentimes people who buy baby changing tables will repurpose them as dressers or desks down the road. If this is your plan, make sure to pick out a style that you'll appreciate for years. A wood changing table or oak changing table with natural or dark finishes are a safe and reliable choice, as they'll be able to fit in the majority of most rooms.


If you have a baby girl and you're planning on turning the baby changing table into a dresser for her room, then it's perfectly fine to choose something a bit more exclusive. A pink baby changing table would be suitable in this situation. Just remember to have a little foresight when you're picking out a baby changing table, as it's quite possible that you'll be using it (as a dresser or desk) for years and years.


Many manufacturers offer collections that include a matching crib, nightstand and changing table. If you know that you want to include a change table when you first plan your nursery, you can buy it as part of a collection. If you have already decorated that baby's room, but want to add a changing table, select one that will blend in with your existing nursery furniture.




Traditional changing tables feature classic detailing such as scrollwork, bun feet, embossed paneling and intricate moldings. Reflections of past eras and trends, like the Victorian era, traditional nursery furnishings are also characterized by rich finishes and graceful curves.




Contemporary changing tables have a comfortable and relaxed appearance. They are characterized by clean lines and simple decorative elements. Through its use of materials, shapes and lines, contemporary style emphasizes natural elements that are calming and restful. A contemporary crib is sure to blend in with almost any décor.




Country style is characterized by milk-painted woods, light to medium finishes and soft lines with gentle curves. A country styled changing table will add a rustic or pastoral charm to your nursery.




---
Changing Table Safety Features
Since it will be safer, select a changing table with rounded corners.
Most changing tables will have guardrails or safety rails that go around at least three sides of the changing area. Many models have guardrails on all four sides.
Safety straps, also referred to as restraining straps, are typically part of the changing pad. They provide additional protection against your child rolling away from you or from falling. Many manufacturers of changing tables will include a change table pad that has safety straps. If the changing pad doesn't have safety straps included, they can be purchased separately.
After purchasing a changing table, it is advisable to register it with its manufacturer. In the event of any product recalls, you will be notified.
---
Changing Table Organizational Features
Changing tables come in a number of stylish configurations that include hutches, cubbies and cabinets. It can have open shelves, enclosed shelves, drawers, a combination of shelves and drawers or a combination of drawers and cubbies.
If you prefer to have the talcum powder and wipes within easy reach, then a changing table with open shelving would be a better choice than one with doors or drawers you would have to open and close.
On the other hand, a changing station with cabinet doors or a set of drawers will allow to put everything away neatly out of sight.
Changing tables with combination storage options allow you to keep a few items on hand and to hide away all the rest.
---
Tips for Using Your Changing Table
When the child in on the changing table, never leave him or her unattended. In the event that you do need to leave the room, take your baby with you. Even if your child is wet and crying, playing it safe is better in the long run than having to clean up a little mess.


Some changing tables come equipped with a pad; some don't. If it doesn't come with a changing pad, purchase an extra thick one, with safety straps. The extra thickness will make your baby more comfortable while you change him or her.


When you first bring your child home, they tend to stay put. But after the first few months, babies can roll easily. Always use the safety straps and keep one hand on your child at all times for added support.


Put everything back in its place once you've finished using it.


Give your changing table a good wipe-down after each use, and it will be fresh and clean and ready for next time. If you have opted for a fabric changing pad cover, don't forget to launder it on a regular basis.