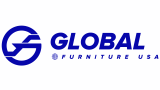 Global Furniture USA Living Rooms & Bedrooms
Discover the playful flair of retro-inspired modern furniture from Global Furniture USA. Create a nostalgic or futuristic atmosphere by selecting the designs that speak to your personal taste. Smooth lines and graceful curves meet bold black, crisp white, vibrant red, and rich brown, all accented with glass, chrome and wood.
Achieve these looks in your living room with your choice of sofas and coffee tables. Outfit an artfully designed kitchen with a dining table and chair set. Or create a unique modern bedroom with Global Furniture's beds, dressers, nightstands and mirrors.
Beds & Bedroom Sets
Transform your bedroom into a delightful modern sanctuary with a Global Furniture bedroom set. The fashionable look of a platform bed is ideal for any urban or contemporary home. Choose finishes including black, white, maple and cherry.
Sofas, Loveseats & Sofa Sets
Craft your dream kitsch living room with the visually engaging looks of Global Furniture sofas, loveseats, tables and ottomans. Choose a sofa set for a mid-century modern living room that practically designs itself.
Coffee Tables & Coffee Table Sets
Stylish living rooms are effortless to create when you mix and match coffee tables and end tables from Global Furniture. When you start with a coffee table set and add a home bar, complete with bar stools, you'll love the deluxe kitsch or modern looks at your fingertips.
Dining Tables, Dining Chairs & Dining Sets
Create an stylish modern mealtime space in your dining room or kitchen no matter how large or small your space. Global Furniture's glass and wood or glass and metal dining tables and dining chairs are an ideal choice. Make it one step easier by choosing a dining set.
Top 10 Global Furniture USA Collections: