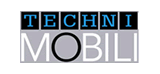 Techni Mobili - Oslo
Techni Mobili Office Furnishings
Techni Mobili is a major supplier of ready-to-assemble office furnishings. They have developed a line of office desks and office chairs that puts the needs of the customers at the forefront, while remaining an economical choice. Their space saving computer desks are functional and easy to put together. Whether you are looking for a large desk or a mobile computer cart, Techni Mobili has an option for you.
Techni Mobili Computer Desks and Home Office Desks
Function and style are the two main components of a Techni Mobili computer desk. Office desks are available in different sizes and configurations to perfectly suit the needs of your home or business office. Choose from extra features such as media storage racks, separate CPU shelves and printer stands.
Office Chairs
Techni Mobili manufactures high quality office chairs, to co-ordinate with your existing space while providing supreme comfort. All office chairs are made with five point bases, to provide stability, and nylon wheels, which are non-marking. Padded armrests, pneumatic height adjustment and adjustable backs all offer extra comfort. Fabric, leather and comfort mesh chairs are all available, with different colors and styles to choose from.
Laptop Carts and Student Desks
Today's office environments sometimes require mobility. Laptop carts and student desks are often required, for these flexible working environments. Techni Mobili offers several mobile computer carts, with different storage options and wood finishes available to suit your space.
Techni Mobili Computer Desks and Office Chairs