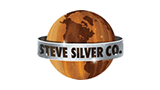 Since 1987, the Steve Silver Company built a reputation as one of North America's premiere suppliers of high-quality dining furniture and dining sets. From their humble beginnings selling imported goods at flea markets, the company expanded into the award-winnning international brand it is today. Headquartered in Texas, Steve Silver Furniture focuses on cost-effective design and delivery of high quality furniture. The result is fashionable offerings for the home and office with an emphasis on value.
Steve Silver Dining Room Furniture
Create a regal dining room atmosphere with the decadent designs from Steve Silver. Choose one of the many elegant Steve Silver dining sets, including dining tables and dining chairs. Or for a personalized look, mix and match your table and chairs. Enhance the look further with a china cabinet or hutch, curio cabinet to show off your collections. Steve Silver dining furniture and accent furniture work well together, establishing and old fashioned ambiance in any home.
The Steve Silver Granite Bello collection is a great choice for the transitional home. A sophisticated blend of black leather and rich cherry create a sophisticated look that is perfect for family living. The Montibello and Abaco collections are also popular choices for the home.
Steve Silver Living Room Furniture
Create an impressive living room, media room, or family room with the powerful style of Steve Silver occasional furniture. We offer furnishings that complement both your interior theme and available space. Start with a coffee table set or purchase your ideal combination of Steve Silver coffee tables, end tables, accent tables, and sofa tables to create a unique look.
Steve Silver Furniture for the Games Room
Get ready for high roller nights in your own home games room, when you have the sophisticated style of Steve Silver pub sets, bar stools, pub tables, and game chairs. Nothing sets the stage for an evening of suspense and entertainment like sleek leather seats and rich wood finish furniture. Steve Silver bar stools  are also great additions to designer kitchen islands or bars, complementing granite, stainless steel, and other modern interior choices.