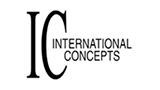 International Concepts offer an amazing selection of furniture including essential pieces for the bedroom and dining room. Are you looking for a bed? A new wardrobe? How about a new dining set? A new kitchen cart? Choose from the numerous designs provided by International Concepts.
If you are shopping for your living room or your patio, International Concepts also have you covered. Check out their accent furniture collection and Adirondack sets. These bestsellers have received a lot of praise from homeowners. They are well-known for their traditional styles.
In 1982, International Concepts (then Whitewood Industries) was founded in Greensboro, NC. They started as a distributor of ready-to-finish furniture. Their furnishings are made of solid wood. Well-crafted unfinished furniture was and is still in high demand. Homeowners can paint or stain these products to coordinate with what they already have. International Concepts later added a line of finished juvenile furniture. From a 9000 square feet warehouse in Jamestown, NC, they moved to a 24000 square feet facility in High Point, NC, in 1987 as the company and business grew.