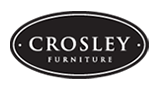 Crosley Furniture - Yuma
Crosley Furniture
Based in Louisville, Kentucky, Crosley Furniture is an all-American brand with international class. Whether you are searching for a perfect centerpiece or designing a room from scratch, Crosley's range of graceful designs will add style and warmth to any kitchen, living room or gaming room. Choose from Crosley's collection of classic finishes, rich with mahoganies and cherries, and your furniture will never go out of fashion.
Crosley Living Room Furniture
The living room can be a place of quiet relaxation, or a space to entertain, which sets the tone of any home social event. Add a bold accent to a living room with Crosley's (buffet tables or sideboards), in … and …, which could also sit tastefully in the hall or dining area. For a more casual elegance bound to spice up any family space, consider the (TV cabinet) or one of Crosley's (media storage).